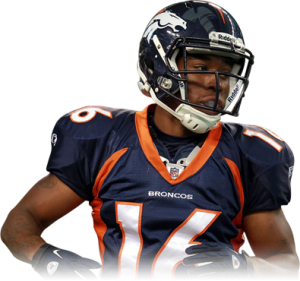 This offseason, we're going to do a Speak Up series looking at each position (o-line, d-line, etc).  Today, we're looking at the wide receivers.
We want to know who you think should be the main three wide receivers in Denver this season. Â Should the team value veteran experience, or youthful potential?
Returning: Â Matt Willis, Eric Decker, Demaryius Thomas, Mark Dell, D'Andre Goodwin, Tyler Grisham and Greg Orton.
Acquired: Â Andre Caldwell, Brandon Stokley, Eric Page, Gerell Robinson and Jason Hill.
Heading into training camp, Decker and Thomas are the presumed top two receivers on the roster.  That leaves ten other receivers fighting for three remaining positions.
The top candidates to land the No. 3 spot appear to be Caldwell, Willis and Hill with Stokley a slot option and Page a return specialist.  The team will have to make some hard decisions when they cut down to the final 54.
What's your take? Â Should an aging Stokley make the team over players like Dell, Goodwin, Orton and Hill? Â Should Caldwell be the No. 3 receiver?
Dish out your thoughts in the comments and vote in the poll after the jump! 

Loading ...