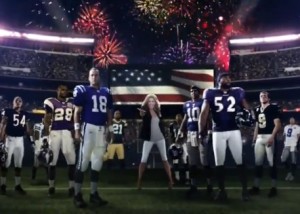 The Denver Broncos are scheduled to appear on Sunday Night Football twice in 2012, with the possibility of a third appearance after Week 11 due to the NFL's flex scheduling.  With five prime-times games, the Broncos will be buzzed about this season, and NBC may try to capitalize on that.
Each year, country music singer Faith Hill opens NBC's production with "Waiting All Day for Sunday Night," an intro lasting about two minutes which features Hill and notable NFL players.  The 2011 intro featured fifteen different players, with the New Orleans Saints being best-representing with three players (Drew Brees, Jonathan Vilman and Will Smith).  The Dallas Cowboys were the only other team to be represented by multiple players (Tony Romo and DeMarcus Ware).
Twelve teams were represented, but the Broncos were not among them.  Quarterback Peyton Manning was featured briefly in last year's intro and may be again in 2012.  Other potential intro-esque Denver players include Champ Bailey and Von Miller, two stars who are recognized across the NFL.
Last Wednesday, NBC announced that they will be releasing the names of the players featured in the 2012 intro on Sunday Night Football's Facebook page from the 13th to the 20th.  Since then, six players have been announced and at least six more are still expected to be announced.
This year's Madden cover-boy, Calvin Johnson, Patrick Willis, Clay Matthews, Jimmy Graham, Rob Gronkowski and Jared Allen will be in the 2012 intro, after none of them were last season. Â Two-players-a-day were announced from Wednesday to Friday last week.
The Broncos will open the season on SNF against the Pittsburgh Steelers in Week 1 and play on SNF again in Week 8 when the team faces the Saints in Denver.  The Broncos' two NBC games come a year after none of the team's games were broadcast by the network in 2011.
Earlier in the month, NBC Sports visited the Broncos' Dove Valley headquarters and took some photoshoots and interviews for the team's season opener.  Cornerback Tracy Porter and wide receiver Andre Caldwell where among those photographed, per the players.
We'll find out by Wednesday if any Broncos will be in NBC's intro this season. Â Until then, we'll be counting down the milliseconds until kickoff.