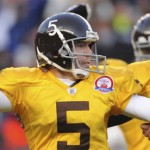 We noted yesterday that disgruntled Broncos kicker Matt Prater would likely show up by July 26th.  Today, we learned that Prater will have to sign by July 16th.
Prater skipped all of the team's offseason OTAs and minicamp practice sessions in protest of the one-year $2.654 million franchise tag the team placed on him earlier in the year.
Reportedly, Prater and the Broncos have been negotiating a five-year contract during Prater's holdout and they're "not far apart" in reaching a deal, according to The Denver Post's Mike Klis.
"Prater and the Broncos have until July 16 to reach an agreement on a multi-year deal.  Absent a long-term deal by July 16, Prater would have to play the 2012 season on the $2.654 million franchise tag."
Per Klis, the Broncos latest offer would pay Prater $3 million annually (presumably a five-year, $15 million deal).  Eight kickers in the NFL are paid $3 million or more a year, with Oakland's Sebastian Janikowski being the highest-paid kicker in the league, earning $4 million annually.
"We're having discussions, and I'm sure he'll be here on time,"  Head Coach John Fox said on Thursday afternoon.  "(The contract's) not done yet."
The Broncos will get together as a team again on July 25th.  Prater will likely be present, but if he isn't, there's always Adi Kunalic.
If I'm not mistaken, Prater will be forced to sign his one-year tender if he doesn't agree to a new deal by July 16th or holdout for the entire year.  I'd go with signing a new deal.