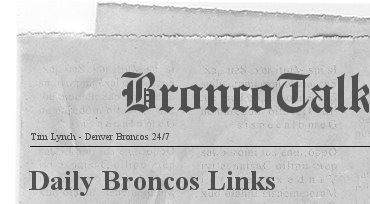 Be sure to follow me on Twitter for more Broncos updates throughout the day.
Break Brings Chance To Recharge | DenverBroncos.com
Players called the offseason program very productive, and now the Broncos begin a five week break after shutting down minicamp.
Peyton Manning's presnap maneuvers make him almost unsackable | Denver Post
Elvis Dumervil has chased, and caught, plenty of quarterbacks. He has sacked scramblers, passers, young ones and not-so-young ones.
Notes from an OTA, Minicamp Edition: June 14 | MaxDenver.com
Joe Mays finally gets his interception, Gerell Robinson makes a nifty touchdown grab, and more as the Broncos took their offseason curtain call.

John Fox warns Broncos to stay in shape during summer vacation | Denver Post
Eighty-nine Broncos players sweated through their final minicamp practice and a set of post-practice sprints, posed for a team picture and then were dismissed Thursday for their six-week summer vacation.
Peyton Manning's signing overshadows Broncos' efforts to shore up secondary | Denver Post
The Broncos' pursuit of Peyton Manning overshadowed for some just how much time, money and draft real estate the Broncos used to improve their secondary.
Broncos, kicker Matt Prater continue to work on details of contract | Denver Post
It would be a surprise if Matt Prater's contract holdout lasts into training camp. The Broncos' strong-legged kicker just missed the team's entire offseason program in protest of his $2.654 million franchise tag, which was tendered in lieu of a long-term contract.
Von Miller, Dave Logan among honorees at Denver Athletic Club banquet | Denver Post
Ten outstanding high school student-athletes from 2011-12 will join Broncos defensive star Von Miller and Colorado homegrown legend Dave Logan tonight, when The Denver Athletic Club hosts its 37th annual Athlete of the Year banquet.
Broncos' Peyton Manning looks good heading into break | Salt Lake Tribune
What Tom Moore saw this week was oh, so familiar. Short or long, the throws were potent and precise, smacking sternums with both authority and a loud thwack.
Mile Hiatus | DenverBroncos.com
With about six weeks left until training camp, read about how players and coaches will be spending their off time.
Fox's Former Coach Visits Broncos | DenverBroncos.com
Back in the early 1970s when Broncos Head Coach John Fox attended Castle Park High School in Chula Vista, Calif., he was coached by Jan Chapman.
Dennis Allen, not Al Davis, now in charge of Raiders defense | First and Orange
Through Broncos minicamp the past two weeks, Peyton Manning has been the talk of the town. But what's the focus of the other three AFC West offseason camps?
Scenes from a Practice: June 14 | MaxDenver.com
A collection of images from the Broncos' final organized offseason practice of 2012, which also closed their 2012 mandatory minicamp.
Little Known Broncos Facts: Stadium Souvenirs in Denver's First Season | MHR
A co-worker of mine was complaining to me yesterday about how ESPN's morning show seems to be devoting at least ten minutes of every program to stories about Peyton Manning. He went on to say that while he has nothing against Manning per se, he also has no particular desire to hear about Peyton every morning.
Minicamp Day 3: Fox | DenverBroncos.com
Head Coach John Fox talks about wrapping up the offseason program and expectations for players during the break.