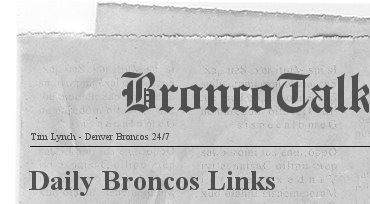 Be sure to follow me on Twitter for more Broncos updates throughout the day.
Derek Wolfe eager to get his NFL career started with the Denver Broncos | Denver Post
Derek Wolfe was given a three-week free pass. He didn't have to endure the drudgery of the Broncos' offseason practices. He wasn't asked to take copious notes during those boring position meetings.
Broncos Prepare For Practice Without K Matt Prater | SBNation Denver
The 2012 Denver Broncos minicamp is about to get under way, but the mile high team will possibly be sans three of their players. The trio of K Matt Prater, QB Brock Osweiler and RB Ronnie Hillman remained unsigned heading into minicamp and may not participate in the team's first mandatory practices — unless something changes soon.

With Peyton Manning's tools, can Denver win in 2012? | Denver Post
Â'I've watched Manning participate in three OTA practices in the previous three weeks and I can't figure out if his arm strength is 70 percent, 80 percent or 90 percent recovered.
Broncos' Julius Thomas will find playing time tough to get in NFL in 2012 | Denver Post
Thomas' rookie season went downhill on the first reception of his NFL career. On a 5-yard catch against Cincinnati last September, Thomas injured his right ankle.
Nephew of Broncos' Dumervil could have big impact | Indy Star
Northeast (Oakland Park, Fla.) offensive guard Harry Dumervil is the younger but certainly not smaller cousin of Denver Broncos defensive end Elvis Dumervil.
Same Number, New Name | DenverBroncos.com
Broncos fans will recognize No. 20 in the defensive secondary in 2012, but this year the jersey will be worn by safety Mike Adams, who hopes to live up to Brian Dawkins' lofty play.
Mini Camp Rules for the Broncos | MileHighReport
The Denver Broncos will hold their final offseason Mini Camp tomorrow. This is the mandatory veteran Mini Camp and will last 3 days just like all other Mini Camps do. All of the players should be in attendance, meaning Franchised tagged Kicker Matt Prater will either sign his tender or we will be reporting an extension.
Denver Broncos 2012 NFL Draft And Offseason Analysis, Reaction, And Projections | NFL Mocks
The Denver Broncos are no strangers to stealing headlines on ESPN and NFL Network, especially lately. With that whole Tim Tebow thing last year (remember that?) ending in a blowout loss in the playoffs to the AFC Champion New England Patriots, John Elway felt as though he had seen enough to know that while he loved Tim Tebow as a person, he didn't think he was the future of the Denver Broncos' organization.
Broncos At Odds With D.J. Williams' Decision Making | Predominantly Orange
D.J. Williams is very rapidly making it difficult for the Denver Broncos to keep his incumbent linebacker title unchallenged…and it has nothing to do with his play.