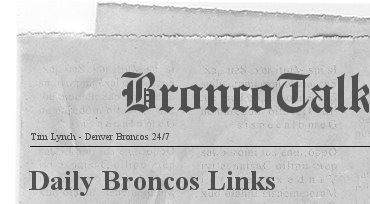 Be sure to follow me on Twitter for more Broncos updates throughout the day.
Broncos Host Olympic Hopeful | DenverBroncos.com
Less than three weeks before the 2012 Olympic Team Trials, swimmer Missy Franklin spent a day with the Broncos here at Dove Valley.
Manning is an ace teacher for rookie Osweiler | Denver Post
Though he has not thrown his first pass in the NFL, Broncos rookie quarterback Brock Osweiler carries more than a little football history. The 21-year-old might be the first passer in the league's lifetime to be drafted by a Hall of Fame quarterback in John Elway, then sit in the meeting room next to a certain Hall of Fame quarterback in Peyton Manning.

Super Bowl champion Derrick Martin gives back by helping Denver kids | Denver Post
There's a reason Derrick Martin is a sucker for underprivileged children, the kids who aren't provided with much hope or encouragement, come from single-parent homes and always seem to be running uphill against poverty and the allure of gangs.
Broncos safeties Moore, Carter figure to be better with added experience | Denver Post
In 2003, some rookie safety named Troy Polamalu didn't start a game for the 6-10 Pittsburgh Steelers.
Broncos' Von Miller looks to make big improvement between rookie, sophomore | Denver Post
You're absolutely right that there is an adage most of the NFL's talent evaluators hold close to their hearts — that players with the abilities to construct productive careers see the most improvement from their rookie to their second seasons.
No deep secrets with Manning | The Pueblo Chieftain
Peyton Manning is the only four-time MVP in NFL history, he's hoisted a Super Bowl trophy and hosted "Saturday Night Live."
Broncos DL Ty Warren shows up at workouts | Journal Advocate
Ty Warren just returned to the field and already he's taking shots at quarterbacks. Playfully, of course.
Ready For Moore | DenverBroncos.com
Second year safety Rahim Moore is making the most out of his first full offseason.
Right on 'Q' | DenverBroncos.com
Second-year safety Quinton Carter is drawing on his experience as a 10-game starter in his rookie campaign to improve in year two.
Derek Wolfe's contract: $2,267,640 signing bonus | First and Orange
Got the full details on the four-year contract the Broncos gave second-round draft pick Derek Wolfe.
Only Osweiler, Hillman and Prater unsigned among Broncos | First and Orange
The Broncos have all 90 players signed except for kicker Matt Prater, second-round quarterback Brock Osweiler and third-round running back Ronnie Hillman.
Contracts for Broncos' 4th round picks Bolden and Blake | First and Orange
In the fourth round, the Broncos drafted cornerback Omar Bolden with the No. 101 overall pick and guard-center Philip Blake at No. 108 overall.
What we know about the 2012 Denver Broncos through the OTAs | Examiner.com
The Denver Broncos have wrapped up their OTAs for the preseason, with mandatory camps beginning on June 12, and lots of stories have surfaced.
OTAs Day 10: Carter | DenverBroncos.com
Second year safety Quinton Carter talks about how he expects to improve this offseason.
OTAs Day 10: Moore | DenverBroncos.com
Second year safety Rahim Moore talks about his own expectations heading into this season.