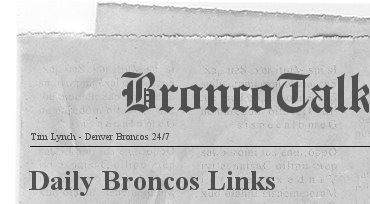 Be sure to follow me on Twitter for more Broncos updates throughout the day.
John Elway surrounds Broncos with "winners" in front office | Denver Post
Walk through the upstairs offices at Broncos headquarters and it's usually remarkably quiet. Administrative assistants silently, but busily, attend to the details of the men they work for. The men spend hours burrowed inside offices watching film of players or making phone calls regarding personnel issues.
Top six teams to watch for this upcoming season | NFL Evidence Network
Everything in Denver will revolve around what Peyton Manning does. He was the biggest signing this offseason and possibly in NFL history. Manning has taught the receivers in Denver things they never knew, and a former Bronco who helped in acquiring Manning and just signed with the team, Brandon Stokley, will be helping the receivers too.
Von Miller not satisfied with 2011, even though he was defensive ROY | Denver Post
There are many people who earn their living in the NFL who are quick to say what kind of impact player Von Miller can be. And yet Miller, with lofty goals tucked in his pockets, is just as quick to say what kind of player he doesn't want to be.

Former Broncos star walked in Peterson's shoes | Star Tribune
Star running back. In his prime. Tears his ACL in his fifth NFL season. At the age of 26.
Broncos Running Backs Know The Importance Of Protecting Manning | CBS Denver
John Elway wasn't a championship quarterback until Terrell Davis came along. Every great quarterback needs a great running game, and the Broncos are no different this year.
Broncos aren't holding back with Peyton Manning | ajc.com
Offensive coordinator Mike McCoy said Thursday he isn't making any special allowances for the four-time MVP who's returning from a nerve injury that caused weakness in his throwing arm, forced him to sit out last season and led to his release from the Indianapolis Colts.
Some Broncos fans still not sold on Peyton Manning | Denver Post
NFL not place for aging QBs. John Elway bet the Broncos' future on an old man, with many questions about how he will hold up through 19 games. Last year, 10 quarterbacks missed part of the NFL season because of injury, and all were younger and stronger than Peyton Manning. Manning hasn't had a finger laid on him in almost two years.
Broncos working to reach deals with Ty Warren, Matt Prater | Denver Post
With the mandatory minicamp coming up in 11 days, the Broncos have been trying to get contracts done with defensive tackle Ty Warren and kicker Matt Prater.
Two tight end formations will hit NFL by storm in 2012 | NFL.com
In the NFL, coaches will spend time in the film room studying the schemes of the most productive teams from the previous season to see if there is a tactic that can be copied and implemented into their respective playbooks.
Faith and Sports—Can Tim Tebow and Other Players Have Both? | La Mesa Patch
I have the opportunity to teach two sport history courses for National University and one of the topics in sport history is the rise of religious sport heroes. In the early 20th century, there was a lot of misunderstanding and fear of religious groups that immigrated to America
'Meaner' Ayers Reveals Offseason Plan | DenverBroncos.com
Robert Ayers has a structured offseason plan to reach his maximum potential for the start of the 2012 season.
New Broncos fullback Chris Gronkowski a "blend" of his brothers | First and Orange
Two Gronks down, one Gronk to go. The middle football-playing Gronkowski brother, fullback Chris, made his Broncos media room debut Friday, about a week after Denver traded with Indianapolis to add to him to the roster. The Broncos sent cornerback Cassius Vaughn to the Colts in exchange for Gronkowski.
Broncos' Von Miller will have camera in hand again in 2012 season | First and Orange
From the time Broncos linebacker Von Miller unpacked his combo video/still digital camera early in the 2011 season to the aftermath of the team's playoff loss in New England, Miller took "tons" of pictures and shot "tons" of video that chronicled his rookie season in the NFL.
Manning again part of the crowd at Rockies game | First and Orange
Despite their early-season struggles, Rockies' games remain the place to be in Denver.
Brian Dawkins Currently Not Worried About Health Effects From Playing Football | Predominantly Orange
Watching Brian Dawkins on television is by no means easy on the eyes. It's hard seeing him in a cushioned seat after all of these years as one of the hardest hitting safeties on the field. It will definitely take some getting used to.
Walking With Purpose | DenverBroncos.com
Peyton Manning and the Broncos march the 2012 Denver 5K Heartwalk with metro area Boys and Girls Clubs.
OTAs Day Six: Clady | DenverBroncos.com
Offensive tackle Ryan Clady talks about protecting Peyton Manning and how the line is coming together OTAs.
OTAs Day Six: Ayers | DenverBroncos.com
Defensive end Robert Ayers talks about working with Jack Del Rio and how he's improving during OTAs.
OTAs Day Six: Gronkowski | DenverBroncos.com
Newly acquired fullback Chris Gronkowski talks about coming to the Broncos.