On Wednesday, the Denver Broncos traded cornerback Cassius Vaughn to the Indianapolis Colts in exchange for fullback Chris Gronkowski. According to Mike Klis, it was the first trade executed by Matt Russell, the team's new Director of Player Personnel.
That presumably means that Russell has essentially taken over duties which were held by former General Manager Brian Xanders, who the team parted ways with earlier in the month.  The Vaughn for Gronkowski trade was the first executed by Russell, but it likely won't be the last.
Two players that should be traded before or during the 2012 season (the trade deadline has been moved to Week 8) are linebacker D.J. Williams and running back Knowshon Moreno. Â If the Broncos do decide to move on from Williams and/or Moreno, a fifth or sixth round conditional selection would likely be the compensation. Â 
Moreno was drafted by the Broncos in 2009 (12th overall) but his production hasn't been as high as the team would have liked (1,905 rushing yards and 12 touchdowns in three seasons).  Inadequate performance, injuries that caused him to miss twelve games, the emergence of Willis McGahee and receiving a DUI in February have all negatively affected Moreno's chances of staying in Denver.
In Moreno's defense, he has proven himself to be solid receiving back (catching 76 passes for 686 yards and six touchdowns in his career), and in a Peyton Manning-led offense, perhaps this will be the year Moreno breaks out. Â Coming off ACL surgery with heavy competition at the running back position, that seems unlikely.
Moreno still has two years remaining on his reasonable contract (he is owed less than $3 million through 2014), so the team may retain him. Â With returning starter McGahee and second round draft selection Ronnie Hillman presumably going to be the No. 1 and No. 2 running backs on Denver's roster, Moreno will be competing with Mario Fannin, Lance Ball, Jeremiah Johnson and Xavier Omon for the third and final running back spot on the Broncos' depth chart.
Moreno is expected to receive the most competition from Fannin in training camp. Â Last year, Fannin signed with the team as a college free agent following the draft and impressed at training camp with the fastest legs in the backfield (he ran a 4.37 at the 2011 NFL Scouting Combine) before an ankle injury caused the team to place him on the injured reserve list, ending his season before it even started. Â If Fannin had made it to the preseason, he likely would have been Denver's third running back in 2011 (behind McGahee and Moreno).
If Moreno doesn't show a lot of promise (and if Fannin does) during the summer, he could be the next player shipped out of town by V.P. John Elway and Coach John Fox. Â Consider that motivation, Knowshon.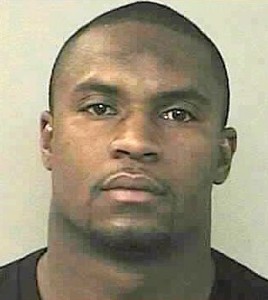 Williams is another player who has faced recent injury bugs and DUI arrests.  The main difference between Williams and Moreno is that Williams has been productive since being drafted by the team in the first round (17th overall) of the 2004 NFL Draft (810 tackles, 20.5 sacks and 13 forced fumbles).  Unfortunately for Williams, he is facing a six-game performance enhancing drug suspension from the NFL and he wasn't missed by the defense in 2011 when he was out with injuries (Wesley Woodyard filled in and recorded 97 tackles and forced two fumbles).
The Broncos owe Williams $11 million over the next two seasons and recently re-signed Woodyard to a two-year, $3.5 million deal. Â Woodyard's friendly contract and production as a starter won't help Williams' chances of sticking around. Â Considering that the team re-signed Woodyard, drafted outside linebacker Danny Trevathan, and signed college free agent outside linebacker Steven Johnson in the offseason, Denver appears to be prepared to enter the 2012 season with or without Williams on the roster.
What are your thoughts on Williams and Moreno? Should the team keep them around, or get the best compensation possible before they become free agents in 2014?