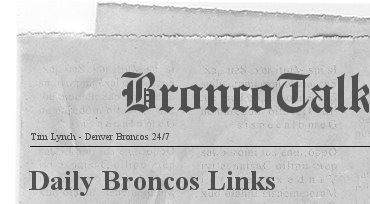 Be sure to follow me on Twitter for more Broncos updates throughout the day.
Good morning Broncos fans! BT Player Profiles make their return starting today, so get ready to resume helping us continue the first fan-powered Broncos roster on the web!
Osweiler 1-On-1 From Xfinity Draft Special | DenverBroncos.com
After airing locally in Denver on Xfinity channel 105, here's BTV's sit down with draft pick Brock Osweiler a day after he was drafted.
Broncos negotiating with seven draft picks | First and Orange
The Broncos will soon join the parade of NFL teams who have been signing their draft picks.

Jets' Tim Tebow's passion impresses Darrelle Revis | Denver Post
Count New York Jets all-pro cornerback Darrelle Revis as a believer when it comes to Tim Tebow. At least with the passion Tebow shows. But even when munching on a sandwich in the cafeteria at the Jets complex in Florham Park, N.J.?
Broncos' Knowshon Moreno facing trial in alcohol-related driving incident | AOL Sporting News
Denver Broncos running back Knowshon Moreno will be fighting for a job this summer. Come October he will have another battle — in court over an alcohol-related driving arrest.
Miller, Thomas, Franklin Pick Up National Recognition | DenverBroncos.com
Von Miller received another honor on Wednesday, adding to the recognition he's received following his 11.5 sack-season in 2011. Former NFL scout and current NFL.com analyst Daniel Jeremiah published his list of the top 10 players under the age of 25 today and included Miller, who is 23 years old.
Vince Lombardi, Zane Beadles, and building a football team through the power of love | IAOFM
I love the history of football. In its beginnings a brutal sport nearly banned at many colleges, it took over 30 years to reach a level of maturity and acceptance by the American public in the 1950s and 1960s. The growth in the sport since then has in many ways reflected the positives in the evolution of American culture.
Jamie Moyer Continues To Break Every Oldest Baseball Player's Record | DeadSpin
Record-breaking old man Jamie Moyer, who legend has it is older than dirt, legged out a two-run infield single tonight, becoming the geezeriest ballplayer to ever drive in a run.
Nuggets' Al Harrington undergoes surgery on right knee | Denver Post
Denver Nuggets forward Al Harrington underwent surgery to fix a torn meniscus in his right knee on Wednesday.
Harrington is expected to be back on the court in time for summer workouts.