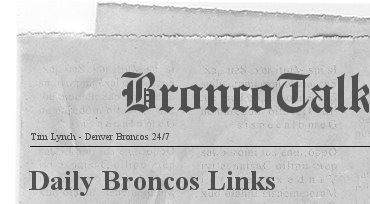 Be sure to follow me on Twitter for more Broncos updates throughout the day.
Wolfe 1-On-1 From Xfinity Draft Special | DenverBroncos.com
After airing locally in Denver on Xfinity channel 105, here's BTV's sit down with draft pick Derek Wolfe a day after the draft.
Armstrong Gets Call to College Hall of Fame | DenverBroncos.com
When Otis Armstrong came to Denver as a first-round pick in 1973, he said he was just looking to follow in fellow running back Floyd Little's footsteps.

On QB Brock Osweiler, Broncos' John Elway gives strong endorsement | Denver Post
Broncos fan "David from Los Angeles" waited through an hour of questions before getting a chance Tuesday morning to talk directly to John Elway and John Fox as the Broncos' bosses held a conference call with season-ticket holders.
Fox, Elway Chat with Ticket Holders | DenverBroncos.com
Executive Vice President of Football Operations John Elway and Head Coach John Fox talked with more than 6,000 season ticket holders on a conference call Tuesday.
Matt Prater absent from Broncos workouts | First and Orange
Broncos kicker Matt Prater, a free agent until he was slapped with a $2.6 million franchise tender for the 2012 season, has not been participating in the team's offseason workout program.
Broncos' John Elway: Brock Osweiler is "our guy for the future" | Examiner
Denver Broncos Executive Vice President, and legendary quarterback, John Elway sat down with head coach John Fox Tuesday to answer questions from 6,000 fans via a conference call.
Derek Wolfe Hungry For NFL Action | Predominantly Orange
Picture Freddy Krueger dressed in orange and blue. That's what the Denver Broncos got when they drafted Derek Wolfe with their first pick in the 2012 NFL draft.