Posted Fri May 11th by Monty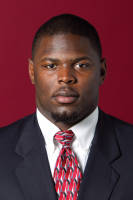 Jerry Franklin
Pos: Inside Linebacker
School: Arkansas
Class: Senior
Ht: 6'1″ Wt: 245 lbs.
40-time: 4.64 Bench: 15
Jerry Franklin has the physical size, bulk, and arm length from which exceptional linebackers are molded. A two-time team captain, Franklin led his Arkansas teammates in tackles every year of his four-year career, only the second Razorback to accomplish that feat since 1960. Franklin displayed versatility while achieving this — he mostly played inside but started 10 games in 2009 at weakside linebacker as well. Scouting reports suggest he's football smart, disciplined, and a natural leader with moderate-to-decent measurables.
Scouting Reports: DS, PFW, NFP, CBS, Arkansas, Broncos
Camp Competition: Joe Mays, Mike Mohamed, Nate Irving, Elliot Coffey
Camp Outlook: The tape I watched on Franklin wasn't overly impressive. In fact, he whiffed on quite a few plays from this game vs. Vanderbilt. But I did like his position on most plays; if he wasn't making the tackle, he was close, reflecting more-or-less solid football instincts. Franklin has the potential to be a two-down linebacker at the NFL level, but it may take a season on the practice squad for him to see that realized.
Career Statistics
Year
GP
TKL
TFL
Sack
Int
2011
12
101
10
.5
0
2010
13
93
13
6.5
0
2009
13
94
5
1.5
3
2008
13
81
3
1.5
2
Totals
51
369
31
10
5
BroncoTalk's undrafted rookie reports are compiled by examining second-hand scouting reports, news articles, and, when available, film footage of the Broncos' undrafted rookie. Franklin is one of 13 undrafted free agent rookies the Broncos will bring in to compete in their 2012 training camp.