Posted Thu May 10th by Monty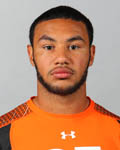 Eric Page
Pos: Wide Receiver
School: Toledo
Class: Junior
Ht: 5'9″ Wt: 186 lbs.
40-time: 4.53 Bench: 15
Eric Page probably can't believe he wasn't drafted. Had he continued at Toledo for his senior season, he would have very likely smashed the NCAA football record in career receptions, having totaled 306 in three years, 49 catches shy of the mark held by Oklahoma's Ryan Broyles. He's one of the only underclassmen the Broncos brought in this year and one of the few UDFA's to attend the combine. Page was named first-team All American kick returner by the Sporting News in 2010 (the first Rocket in 35 years to be named first-team All American). A dreadful combine led to him falling out of the draft completely, but if this ball-hawk can impress in camp the Broncos very well may have found a diamond in the rough.
Scouting Reports: NFL, CBS, PFW, UT, Broncos
Camp Competition: Andre Caldwell, Matthew Willis, D'Andre Goodwin, Brandon Stokley, Mark Dell, Tyler Grisham, Jason Hill, Greg Orton, Gerrell Robinson, Eric Decker, Syd'Quan Thompson (punt returns)
Camp Outlook: Page is a natural fit as a slot receiver, and we wouldn't be surprised to see him excel there. He's also an electric kick returner, but his best bet at making the roster might be as a punt returner. It's not because it's where his greatest talent is found — it's simply because there is no one else on the Broncos roster that really fits the gig, and the Broncos do need a punt returner, after all.
Career Statistics
Year
G/S
REC
YDS
YPC
TD
2011
13/13
125
1,182
9.5
10
2010
13/13
99
1105
11.2
8
2009
12/12
82
1159
14.1
7
Totals
38
306
3,446
11.3
25
BroncoTalk's undrafted rookie reports are compiled by examining second-hand scouting reports, news articles, and, when available, film footage. Page is one of 13 undrafted free agent rookies the Broncos will bring in to compete in their 2012 training camp.