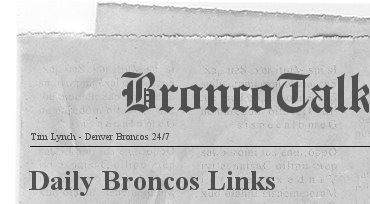 Be sure to follow me on Twitter for more Broncos updates throughout the day.
Brian Xanders out as Broncos' general manager after 3 years in that role | Washington Post
Brian Xanders is out as general manager of the Denver Broncos after three years in that role.
Broncos, GM Brian Xanders agree to part ways after four years in Denver | Denver Post
After spending his first year learning how to run an NFL organization while observing the staff he led, John Elway is taking charge.

Broncos, Xanders Part Ways | DenverBroncos.com
Executive Vice President of Football Operations John Elway released a statement as the Broncos and former General Manager Brian Xanders have parted ways.
Elvis Back in the Building | DenverBroncos.com
On Monday, defensive end Elvis Dumervil joined his teammates in Denver to take part in the club's offseason conditioning program.
Broncos Top Pick Derek Wolfe Took A Long Road To The NFL | CBS Denver
The Denver Broncos' top draft pick, defensive lineman Derek Wolfe, has taken a long, winding road to get to the NFL. He grew up outside of Lisbon, Ohio near the Pennsylvania border. He was raised in a one-parent home and never met his father.
A look back at Brian Xanders' time in Denver | First and Orange
Brian Xanders' tenure in Denver lasted only four years, but in that time, he worked with three head coaches, and never had final say over personnel matters. He and the Broncos parted ways on Monday.
The End of the 'Three-Legged Stool' | MaxDenver.com
John Elway's growth into his role made Brian Xanders increasingly expendable in the Broncos' power structure.
The X-Man Goeth: Broncos fire GM Brian Xanders | IAOFM
The Broncos have fired Brian Xanders after four years with the organization and three seasons as their general manager. Although the story by Mike Klis portrays the decision as a mutual parting of ways, it doesn't take much reading between the lines – or of the DP's Breaking News email titled, Broncos fire GM Brian Xanders after three years in Denver – to discern that the choice was all John Elway's.
Denver Broncos' Brock Osweiler the Next Aaron Rodgers | Rant Sports
The Denver Broncos took a QB in the 2nd round of the 2012 NFL Draft when they selected Brock Osweiler. Just weeks after signing Peyton Manning, and when many thought the Broncos should be drafting players to help Manning, they took another QB that can be groomed by Manning for a couple of years.