Posted Fri May 4th by Monty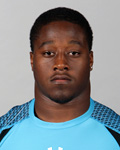 Steven Johnson
Pos: Outside Linebacker
School: Kansas
Class: Senior
Ht: 6'0″ Wt: 239 lbs.
40-time: 4.78 Bench: 16
Steven Johnson is all about production. A tackling machine for the Kansas Jayhawks, Johnson led the Big 12 with 124 tackles in 2012 while serving as team captain as a second-year starter at weakside linebacker. He's a smart, competitive, instinctive player who made his own way as a form walk-on. The consensus on scouting reports suggests, however, that Johnson is limited in his physical abilities. At 6-0, 239, he's lacking the height, strength, and speed to be a starter at the NFL level, and he lacks the hip fluidity to go against elite NFL ballcarriers or wideouts. His instincts and ability to read blocking schemes could result in immediate special teams contributions, though.
Scouting Reports: NFL, PFW, NFP, CBS, KU, Broncos
Camp Competition: D.J. Williams, Von Miller, Wesley Woodyard, Danny Trevathan, Cyril Obiozor
Camp Outlook: Johnson's best bet is to make it on the team as a special teams contributor, and he has the instincts to potentially do just that. He'll look to match the success story of another former undrafted Jayhawk on the Broncos — cornerback Chris Harris, who played in all 16 games for the Broncos in 2011. The Broncos don't need elite athletes to provide coverage on special teams — they need instinctive players who can sniff out blocks and consistently take good angles. Johnson fits that bill, and if he can turn his special teams contributions into a few years on the roster with Denver, he may be able to improve his size and strength to the point of pushing for a starting job down the line.
Career Statistics
Year
GP
TKL
TFL
FF
Int
2011
12
124
2
2
1
2010
12
95
4.5
0
0
2009
10
9
0
0
0
2008
2
1
0
0
0
Totals
36
229
6.5
2
1
BroncoTalk's undrafted rookie reports are compiled by examining second-hand scouting reports, news articles, and, when available, film footage of the Broncos' undrafted rookie. Johnson is one of 13 undrafted free agent rookies the Broncos will bring in to compete in their 2012 training camp.