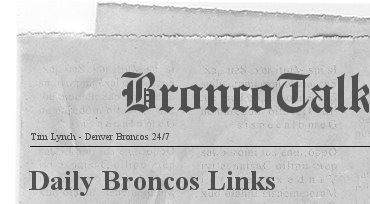 Be sure to follow me on Twitter for more Broncos updates throughout the day.
Elway, Fox and Manning Remember Seau | DenverBroncos.com
Executive Vice President of Football Operations John Elway, Head Coach John Fox and quarterback Peyton Manning released statements on the passing of Junior Seau.
Junior Seau's apparent suicide shocks NFL | Denver Post
Junior Seau, regarded as one of the NFL's best linebackers over a 20-year career with the San Diego Chargers, Miami Dolphins and New England Patriots, was found shot to death at his home Wednesday morning in what police said appeared to be a suicide. He was 43.

Off-Season Player Movement: Update 3 | Draft Metrics
DRAFTMETRICS will periodically update its report on off-season player movements. On the next page you will find the third such update. This report tracks the movement of all players who started a game during the 2011 NFL season.
Peyton Manning, Broncos join coaches on the field for first time | Denver Post
For the first time since Peyton Manning signed with the Broncos in March, Denver's coaches are allowed to oversee practices on the field at Dove Valley.
NFL suspends four Saints for their roles in bounty | Denver Post
Roger Goodell sent a strong message to all NFL players Wednesday: Pay-to-injure bounty programs will not be tolerated.
Broncos talk about Saints suspensions and "message" from NFL | Denver Post
In locker rooms across the NFL today, players were gathered for offseason workouts when the bombshell news started filling up their cell phones and taking over the sports television news.
Manning, Fox Share Seau Memories | MaxDenver.com
The death of Junior Seau from an apparent self-inflicted gunshot wound at the age of 43 rocked the NFL to its foundation — particularly a generation of players and coaches that worked and played with and against Seau during his 20-year career.
Manning on Seau: A once-in-a-lifetime player | First and Orange
Broncos quarterback Peyton Manning today called Junior Seau one of the most dominating defensive player he ever faced.
Junior Seau's AFC championship game performance against Chargers | First and Orange
The first and only time I talked one-on-one with Junior Seau was during the New England Patriots' pursuit of perfection in the 2007 season. The Denver Post let me hang out for two weeks in Foxborough after the Pats finished their regular season 16-0.
Junior Seau (1969-2012) | First and Orange
We just saw Junior Seau not too long ago. When the Broncos played the San Diego Chargers on Nov. 27, 2011, Seau was inducted into the Chargers' Ring of Fame during a halftime ceremony.
You Got Served: Draft groupthink | IAOFM
Did you hear the one about the NFL team which "reached" for a player to fill a need? That's a no-no, picking for need. You should be drafting the best player available (hereafter BPA), regardless of need, goes the story.
Competition for a final roster spot: Offense edition | MileHighReport
The draft is gone. Some liked, some disliked, but the fact is that these are our players for the next season. We also signed some UDFAs and they will all compete for one of the 53s final roster spots.
Competition for a final roster spot: Defense edition | MileHighReport
Continuing to analyze the competition of our players on the Training Camp for a spot on the 53s final roster, let's now take a look at our defense.
Brandon Stokley Press Conference | DenverBroncos.com
Brandon Stokley talked about reuniting with his friend and former teammate Peyton Manning.
Willis McGahee Press Conference | DenverBroncos.com
Willis McGahee talks about playing with Peyton Manning and looking forward to the 2012 season.