Posted Wed May 2nd by Monty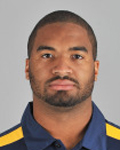 Anthony Miller
Pos: Tight End
School: California
Class: Senior
Ht: 6'3″ Wt: 254 lbs.
40-time: 4.93 Bench: 18
Anthony Miller is a tight end known for his size and build. A sure-handed receiver, Miller left his first NCAA mark in the last play of his last game as a true freshman — he hauled in the game-winning touchdown for the Cal Bears against Miami in the 2008 Emerald Bowl. He's shown flashes as a playmaker and a fierce blocker through the years but lacks consistency.
Scouting Reports: PFW, NFP, Cal, Broncos
Camp Competition: Jacob Tamme, Joel Dreessen, Julius Thomas, Virgil Green, Cornelius Ingram
Camp Outlook: The Broncos' upgrades at tight end through free agency are one of the more-talked about improvements the team made outside of signing QB Peyton Manning. Tamme and Dreessen will pack a powerful one-two punch, while last year's draft picks Thomas and Green have the Broncos' draft pick investments backing their roster spots. Miller will have to really make a mark in camp to oust either of the latter two names.
Career Statistics
Year
GP
REC
YDS
YPC
TD
2008
12
1
2
3.0
1
2009
11
26
357
13.7
0
2010
12
13
152
11.7
1
2011
13
24
263
11.0
3
Totals
48
64
774
12.1
5
BroncoTalk's undrafted rookie reports are compiled by examining second-hand scouting reports, news articles, and, when available, film footage. Miller is one of 13 undrafted free agent rookies the Broncos will bring in to compete in their 2012 training camp.