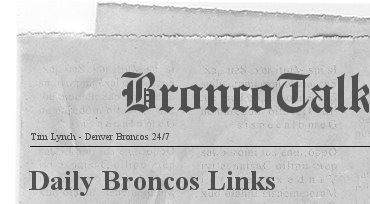 John Elway Press Conference | DenverBroncos.com
Executive Vice President of Football Operations John Elway breaks down the team's first round trades and preparing for the second day of the draft.
Broncos Trade Down, Then Out of Round 1 | MaxDenver.com
John Elway said he was open to trades — "preferably" down. He got his preference — and said that the Broncos' draft board looks the same as it did before the swaps.
First Day Trades | Draft Metrics
It looks like the trades the Broncos made were not as bad as the fans believed them to be. They didn't make out like bandits either, but slightly in the positive.

Fast Facts – Second and Third Rounds | Draft Metrics
The NFL Draft moves onto the second and third rounds beginning on Friday night at 7 PM EST. There will only 31 selections in round 2 this year, due to the Saints forfeiting a second round choice. Barring further trades, three teams will enter the second round with two selections.
Broncos trade down twice, out of first round | Denver Post
The Broncos, apparently tired of waiting with the No. 25 draft pick, ultimately decided, what's one more day?
Elway fails to pull the trigger in first round of NFL draft | Denver Post
In the NFL draft, an old quarterback did what he knows best: John Elway passed.
Analysis: Winners and losers from NFL draft's first round | Denver Post
It will take a physically gifted player with a strong mentally to follow Peyton Manning in Indy. Luck is the guy.
NFL draft: Broncos' telephone ringing despite position | Denver Post
The Broncos didn't make a selection Thursday, but team executive John Elway said it was a busy night in the draft room
Denver Broncos end up empty handed in NFL Draft's first round | TimesCall.com
If it will help calm the disappointed masses, the Broncos tried to draft a defensive tackle in the first round.
Broncos stockpile picks instead of picking a player in the first round of NFL draft | Washington Post
As the draft droned on and the Denver Broncos slid down the board, John Elway's cellphone buzzed yet again.
Elway: 'I Feel for the Fans' | MaxDenver.com
John Elway emphasized the value of sticking with the draft board in defending his two trades down from the firs round, but empathized with fans who gathered for a draft night party downtown to await a selection that never came.
Denver Broncos Options At No. 36 Draft Pick | Predominantly Orange
The Denver Broncos decided to skip round one in favor of stockpiling picks in rounds 2-4. It's a move that says the early picks on the Broncos draft board were taken well before their original No. 25 spot, and plenty of the next guys in line are still on the board.
Broncos move back, load up on picks | ESPN Blog
The Broncos know have six picks in the next three rounds. I think we will see Denver try to get a defensive tackle, running back and quarterback on Friday. I wouldn't be surprised if the Broncos make more trades in the second or third rounds.
Denver Broncos' Round 2 and 3 Draft Prospects | Bleacher Report
The Denver Broncos ended Round 1 of 2012 NFL Draft empty-handed. No players were added to the Broncos roster, but they did manage to move down twice and pick up an early second- and fourth-round choice to increase their total number of picks from seven to eight.