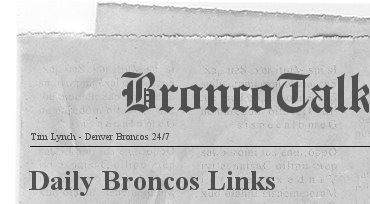 Win a custom commissioned sports athlete portrait – valued at $300!
Dawkins Reflects On Career | DenverBroncos.com
Addressing the media for the last time at Dove Valley, Brian Dawkins talks about what he'll miss most about playing football and what's next now that he's retired.
The Game Is Changing, and Dawkins Is Not Okay With That | MaxDenver.com
As Brian Dawkins heads into retirement, the sport he dominated from the strong safety position is evolving under the auspices of new rules and enforcements, and he doesn't approve — not because he's against player safety, but because of the law of unintended consequences.
From 2 to 25 | DenverBroncos.com
EVP of Football Operations John Elway talks about the difference in preparing for the draft this year versus last season when the Broncos had the No. 2 pick.
Brian Dawkins always a welcome Bronco even in retirement | Denver Post
The reality of his life-changing, career-ending retirement decision sunk in for Brian Dawkins as he drove to the Broncos' facility Tuesday morning to say goodbye.
Brian Dawkins "at peace" with retirement from NFL | Denver Post
Brian Dawkins walked through the locker room at Dove Valley today for the first time as an ex-player.
Denver Broncos' AFC West rivals full of hope before NFL draft | Denver Post
In a division in which the Broncos wore the crown in 2011 with only an 8-8 record, it's natural for every team in the AFC West to believe it's "right there" and think that a great draft this week will be the push to get over the top.
After Andrew Luck and Robert Griffin III, anything goes in NFL draft | Denver Post
Asked what he learned from his first NFL draft as a team's personnel chief in 2011, Broncos executive vice president of football operations John Elway used the word "fluid." Fluid, as in ever-changing and always unpredictable.
Broncos' Nate Irving not a bust (yet), but he has a lot of work to do | Denver Post
It's too early to declare any 2011 draft pick a bust. But Irving, from North Carolina State, didn't have the rookie year the Broncos thought he would have when they made him a third-round pick.
Tebow gets nod over Manning | Denver Post
Tim Tebow ranked ahead of Peyton Manning? That's right — and they're both ranked behind Jimmie Johnson.
Denver Broncos not desperate for DT, other options at 25 | Examiner
The highly anticipated first round of the NFL Draft is merely one day away, as it kicks off at 6 p.m. MT Thursday night on ESPN, and every team waits with baited breath for their name to be called by Commissioner Roger Goodell.
New Nike Denver Broncos NFL jerseys go on sale Friday | Channel 9 News
Friday marks the first day Denver Broncos die-hard fans can purchase the brand, new Nike version of the team's jerseys – including the highly-coveted Peyton Manning's No. 18.
Bailey now the "old guy" on Broncos' D | First and Orange
Champ Bailey has cut his hair close and shaved his beard into a trim goatee.
Broncos Targeting WR Derek Carrier From Beloit College | SB Nation
The Denver Broncos appear to be among a number of NFL teams interested in Beloit College's standout WR Derek Carrier.
Tim Tebow To Play On Special Teams For Jets | Predominantly Orange
Is Tim Tebow a better football player than he is a quarterback? It looks like that question will be answered this season in New York.
You Got RAMD: The 2012 Rational Actor Mock Draft | IAOFM
Are y'all ready to get RAMD? For the third year in a row, I'm doing a Rational Actor Mock Draft, which assumes that I know what a rational actor would do. Basically, if every team were run by somebody who thinks like me, this is what would happen.
No One Like Him | DenverBroncos.com
Teammates talk about how Brian Dawkins contributed on Sundays and made them better players.