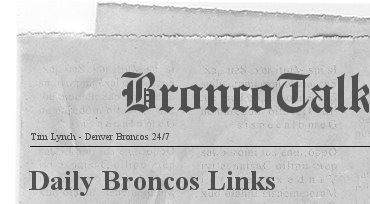 Win a custom commissioned sports athlete portrait – valued at $300!
John Elway Pre-Draft Presser | DenverBroncos.com (Video)
Executive Vice President of Football Operations John Elway talks about gearing up for the 2012 NFL Draft.
Brian Dawkins Video Tribute | DenverBroncos.com (Video)
Broncos TV puts together the highlights from Brian Dawkins' career in Denver.
Brian Dawkins Retires | DenverBroncos.com (Photos)
Safety Brian Dawkins announced his retirement from the NFL after 16 seasons with the Eagles (1996-2008) and Broncos (2009-2011).

Retention of First Round Players | Draft Metrics
DRAFTMETRICS has spent a considerable amount of time and ink analyzing all aspects of teams making first round draft selections. In this article the focus is on the retention of those first round selections. It is one thing go draft them, another for them to be successful and then to hang on to the successful ones.
Standing in the Lucky Spot | Draft Metrics
When my kids were growing up we spent a lot of time at the neighborhood swimming pool. On the last day of the swim season the pool had a big party with free hot dogs and various other refreshments. At the end the kids were asked to find a place to stand in the pool area and all those standing in a "lucky spot", as proclaimed to be so by the lifeguards, received a prize.
Brian Dawkins leaves NFL with legacy of intensity, leadership | Denver Post
As John Lynch can attest, it's not true that Brian Dawkins was an NFL safety and nothing but.
Woody Paige: Denver Broncos' draft still a guessing game | Denver Post
Mock that draft. The consensus is that with the 25th pick in the first round of the NFL draft Thursday, the Broncos will select …
Broncos busily analyze NFL draft options for 25th pick | Denver Post
Upstairs on the second floor of the Broncos' Dove Valley headquarters, the team's highest-ranking officials will spend the final days before the draft not unlike many of the most die-hard NFL fans.
Front Range prospects eagerly awaiting NFL draft | Denver Post
Amid the uncertainty that surrounds his future in pro football, offensive lineman Ryan Miller has learned how a sigh of relief sounds on a plane.
Height always big deal in draft | Denver Post
There is no Statue of Liberty at the entrance to the NFL, no inscription about having a guaranteed place for those players who may be a tick slow, too light, too heavy, or perhaps most of all – too short.
Broncos can afford to draft a defensive tackle after the first round | Denver Post
The Broncos feel good about their defensive line before the NFL draft, which starts Thursday. Unless defensive tackle Michael Brockers of LSU falls to the Broncos' No. 25 slot in the first round, they probably won't use their first pick to acquire a player at that position.
Elway says Broncos will choose impact vs. position in NFL draft | Denver Post
John Elway is hoping the 25th selection in this week's NFL draft is an impact player. The Broncos' executive vice president of football operations said the team won't base any of its picks on need as much as finding players who can contribute immediately.
DRAFT 2012: Broncos look to build around Peyton Manning with immediate future in mind | Washington Post
The Denver Broncos are building around new quarterback Peyton Manning with the immediate future in mind. No three-year plans, no long-term solutions, no projects. Not anymore.
Former Eagles legend Brian Dawkins announces retirement | Philly.com
Despite the open invitation, Brian Dawkins said he had not yet decided whether he would retire as an Eagle. It was almost as if he were saying to the Eagles: "You had your chance."
Veteran safety Brian Dawkins retiring from NFL | Fox News
The veteran safety called Denver Broncos coach John Fox on Monday morning to tell him that after plenty of prayer and reflection, he'd decided that 16 seasons in the NFL was enough.
Hall of Fame an uphill battle for safeties — even for ex-Broncos Atwater, Dawkins and Lynch | First and Orange
With Brian Dawkins' retirement from the NFL on Monday, there will be the inevitable talk about a player of his abilities and his potential place in the Hall of Fame.
Sorry Simon: Why Fletcher is not in Broncos Ring of Fame | First and Orange
In case there is some confusion, former Broncos defensive lineman Simon Fletcher has not been elected into the team's Ring of Fame.
Reactions from NFL social media about Brian Dawkins' retirement | First and Orange
We already knew that Brian Dawkins was among the NFL's most respected players. But just how much current and former players, as well as media folks nationwide, respect the now former Broncos safety became clear today after Dawkins announced his retirement after 16 years.
Broncos Were Ready for Dawkins' Retirement | MaxDenver.com
After 16 years, he had nothing left to prove individually. His Hall of Fame résumé appears secure; he is one of four safeties to dominate the last dozen years in the NFL at the position, along with ex-Bronco John Lynch, Pittsburgh's Troy Polamalu Baltimore's Ed Reed. The only item missing from Dawkins's ledger is a world championship, but he did at least play in a Super Bowl — XXXIX, which the Eagles lost to the Patriots, 24-21.
Elway: DT Not the Need Many Believe It to Be | MaxDenver.com
You might think that defensive tackle is the Broncos' most pressing need. I've written that it's the Broncos' biggest need. That doesn't mean John Elway believes it to be so.
If You're a Top Broncos Pick, You Won't Be Eased In | MaxDenver.com
John Elway often speaks of wanting to find multiple "impact" players in the draft. And when he means "impact" players, he means immediate impact — not two to four years down the line.
You Got Served: It's getting Drafty in here | IAOFM
Happy Monday, friends. I was hoping to get Part 7 of my Manning Offense series done while I was in Dallas, but alas, we ended up working three long days, and I didn't have time. It's going to have to wait until after the Draft, because I need to shift to that situation.
2012 Bum Phillips Charity Golf Tournament | KFDM NEws (Video)
Former Denver Broncos Safety and Port Arthur native Goose Gonsoulin takes a break from the links and tells about how the Bob Hope/Bum Phillips Golf Tournament came about and the Hughen Center's Bob Hope school in Port Arthur.