Friday, April 27th, is the second night of the 2012 NFL draft. The Denver Broncos currently own the rights to two picks that evening at #57 (round 2) and #88 (round 3). In previous pieces I have highlighted prospects at the running back (Lamar Miller, U of Miami/ Chris Polk, Wash) and defensive tackle (Kendall Reyes, Uconn/ Brandon Thompson, Clem), positions that could be of interest to the Broncos at selection #57. Here we will look at prospects at the other positions that could very well be draft candidates for the Denver Broncos come Friday night.

Bobby Wagner, LB, Utah State Aggie. 6'0″ 235lbs.
Bobby Wagner is a well-composed, present, versatile player and sensational athlete. Wagner can play all three linebacker positions in the 4-3. He rushes the passer well with his hand in the ground. He has fantastic awareness and closing speed to halt runners. At his pro day he displayed his elite speed by running 4.46 & 4.47 second 40 yard dash times. He also nailed out a 39.5″ vertical leap and 11'0″ broad jump. To add to his impressive resume he won Defensive MVP of the North team at the Senior Bowl with 7 tackles, one for loss, and an interception. If the Broncos miss out on Hightower in the first round they could seriously be considering Wagner in the second. He would make an instant impact in the run game as well as rushing the passer. He could fill in for Williams at Will-backer or take over in the Mike. Wagner has been rocketing up draft boards and would be a superb value at #57. In my dream of dreams we take Wagner here and then fellow Aggie Robert Turbin later. Along with Turbin, Wagner has a particular passion for a childhood cartoon. Laugh at your own risk.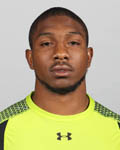 Jayron Hosley, CB, Virginia Tech Hoakie. 5'10" 178lbs.
Jayron has fantastic instincts and lead the NCAA in interceptions as a sophomore in 2010 with 9. He does not have ideal size but he makes up for that with long arms and incredible breaking ability. Whenever opposing quarterbacks dare to test Hosley he routinely gets his hands on the ball. However he does need to add weight to be able to help in run support at the NFL level. He had a particularly hard time stopping Lamar Miller of The U. Hosley would also make a nice addition as a kick returner.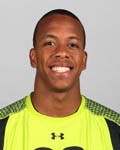 Trumaine Johnson, CB/SS, Montana Grizzlie. 6'2″ 204lbs.
Johnson dominated playing against less talented opponents in whatever division it is Montana plays in. In previous seasons he was a ball hawk but this year managed only 2 interceptions as teams elected not to throw his way. Johnson has incredible size and uses it to his advantage with his physical style of play. In his one game against good competition (Tennessee) he tallied 7 tackles, a pass break up and a forced fumble. Johnson managed 12 breakups in the season but showed cause for concern at the combine with stiff hips. It looks like he will be used as a versatile safety at the pro level and for that reason, among many others, could garnish loads of attention from the Broncos at pick #57. He has the great speed for a safety (4.50s 40 yard dash) and will happily assume the role of hard hitting run stopper that the Broncos desire in their secondary.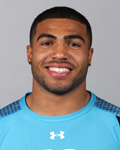 Mychal Kendricks, ILB, Cal State Golden Bear. 5'11" 239 lbs.
Kendricks exploded onto the scene at the combine putting up obscene numbers in jumps and agility drills as well as by far the fastest ILB 40 yard dash time of 4.41 seconds. Kendricks won Pac 12 Defensive Player of the Year despite playing a good chunk of the season with a cast club on one arm. He is a tackling machine. Instinctual, aware, and fearless. Think Zach Johnson formerly of the Miami Dolphins who was also 5'11". Kendricks was a team captain which the Broncos love and I'm sure we can learn whatever we want about him from his former teammate, 2011 Broncos draft pick, Mike Mohamed. Fox has a superb track record with speedy, gritty, undersized ILB's (see: Jon Beason) but we do already have a 5'11" bowling ball signed at MLB in North Dakota product Joe Mays.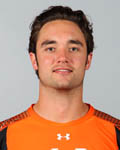 Brock Osweiler, QB, Arizona State Sundevil. 6'7″ 242lbs.
Osweiler has all the goodies. He's tall, he has a rocket arm and he is surprisingly mobile. Osweiler put together a nice junior season with 4,000+ passing yards for 26 TD's and 13 int's. He also rushed for nearly 300 yards adding 3 more touchdowns. EFX brought the whole shebang to Osweiler's pro day. He has more experience on the basketball court than he does on the football field and certainly could have benefited from staying for his senior season having only started 2 football games ever prior to the 2011 season. Certainly Osweiler would take time to groom and that is what makes him an ideal fit with the Broncos. Assuming he would have at least 2-3 seasons to learn under two of the best to have ever played the position. QB's routinely go way higher than their overall ranking and Osweiler could very well be gone by our second round selection. If he is there at #57 we could be pulling the trigger fairly quickly on our signal caller of the future.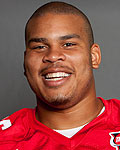 Brandon Brooks, G, Miami of Ohio Redhawk. 6'5″ 346lbs.
Brooks is large, athletic, and strong. He was surprisingly snubbed for an invitation the combine but impressed with a 4.98 second 40 yard dash and 36 reps on bench press at his pro day. Brooks dominated all through the week at the East-West Shrine game routinely pushing around the defensive linemen. His speed and agility for his size is on par with Memphis NT, Dontari Poe. He is often compared to our own Orlando Franklin who we landed in the second round of last years draft. Brooks is versatile, playing tackle and guard in college. He has the vicious attitude and mauling style you love for your interior line. If we are looking for an upgrade of Beadles or some insurance for Chris Kupers injury we could be targeting Brooks here at #57.
Who do you want your Denver Broncos to draft with pick #57? Chris Polk, Brandon Thompson, Jayron Hosley, Trumaine Johnson, Mychal Kendricks, Brock Osweiler, Brandon Brooks, or someone else? I'll be back tomorrow with a look at prospects for our third round pick.