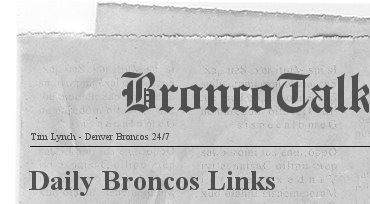 Win a custom commissioned sports athlete portrait – valued at $300!
Broncos could find quality tackles after 1st round | Denver Post
LSU's Michael Brockers, Mississippi State's Fletcher Cox, Memphis' Dontari Poe, Michigan State's Jerel Worthy and Connecticut's Kendall Reyes are basically the first-round group of defensive tackles.
Update on Offseason Player Acquisition Activity | Draft Metrics
Free agent signings have slowed down over the past week and will likely be at a trickle until the draft is over. DRAFTMETRICS is tracking the movements of players who started at least one NFL game last season and will update the attached chart periodically.

Zoneblitz Team Blogger Mock Draft 2012 | Zone Blitz
Jenkins is a reach by any definition, but he won't be available by the time the Broncos pick in the second round. The one thing Denver won't do is pick for need. They'll go "best player available" at every opportunity, regardless of position. Jenkins' clouded past is what prevents him from going higher in the draft, but in a locker room full of men like Peyton Manning, Champ Bailey and Brian Dawkins he will be just fine. The emphasis on Jenkins' past is likely disinformation so an interested team can pick him up later than he deserves to be chosen.
Broncos determined to find Manning's successor | NFL News
The Broncos aren't satisfied at quarterback, a position John Elway continues to mold and craft to his liking.
Draft preview: Linebackers | Denver Post
D.J. Williams, despite his lawsuit to challenge the league, is still facing the prospect of a six-game suspension to open the season for violating the league's performance-enhancing drugs policy. The Broncos did re-sign Joe Mays and Wesley Woodyard as well as use two draft picks on the position last season, choosing Nate Irving and Mike Mohamed, but they'll give a long look at the position again this time around. They will likely add one more fleet-footed linebacker.
Broncos star Von Miller likes potential of Gamecocks' Melvin Ingram | Denver Post
Say you're Melvin Ingram, a defensive end from South Carolina. You're one of the most athletic and explosive players in this year's NFL draft. You're one of the did-you-see-that kind of guys.
Denver Broncos 2012 Draft Preview | Fox News
Despite bringing in a 36-year-old Peyton Manning to take over at quarterback, the Broncos' focus in this draft will predominantly be about getting younger.
Denver Broncos switch to no-huddle | Boulder Daily Camera
Out with the old option. In with the new no-huddle. The Denver Broncos are getting their first taste of the hurry-up-at-altitude offense that Peyton Manning will unleash on the NFL this fall if everything keeps going well with his surgically repaired neck.
Q&A with Charley Casserly | DenverBroncos.com
With the 2012 NFL Draft less than a week away, DenverBroncos.com checked in with CBS Sports' Charley Casserly.
Ben Garland returns to Broncos | ESPN
Defensive tackle Ben Garland has rejoined the Denver Broncos for offseason workouts after getting an early release from his commitment to the U.S. Air Force.
PEYTON MANNING AT THE HELM OF THE TRAINING | Broncos Brasil (Google Translate Needed)
This is not a big surprise, given that Manning is well known for working hard . But it undoubtedly brings into focus as it is a special player. How many players can join a new team and be the unquestioned leader from the moment you enter the locker room?
Why, in general, the Broncos should trade for future picks | Mile High Report
NFL front offices live in the present. There are many reasons for this, and job security is chief among them. One bad season, and restless fans (certainly including Denver fans) call for coaches and or GM's heads.