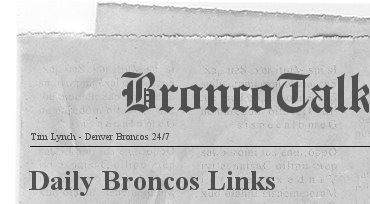 Win a custom commissioned sports athlete portrait – valued at $300!
The top story today is reading that the NFL intends to crack down on unruly fans next season, which is bad news for the Oakland Raiders – they already have a tough enough time filling half their stadium, now the other half will likely end up banned for life. Â Tough luck.
Ten things I think I think with this year's draft approaching | Peter King
After a long weekend of fact-finding (and misinformation-farming) for my Sports Illustrated mock draft, which was put to bed Sunday, here are the 10 things I feel good about 10 days before the first round of the draft.
Broncos ready to start digesting Peyton Manning's tutorial | Denver Post
Peyton Manning will lead the Broncos into conditioning workouts and meetings today for the first time since the only four-time MVP in NFL history was signed to be their new starting quarterback.

Talking Quarterbacks | Draft Metrics
Every year at this time there is lots of draft talk about the quarterback position. This year is no exception. It would be a major surprise if Andrew Luck and Robert Griffith didn't go first and second, although some debate the order. There is plenty of discussion about Ryan Tannehill and how high he should go in the draft and whether he is really better than Brandon Weeden and Brock Osweiler. Others talk about how "developmental" quarterbacks can be taken later in the draft and groomed to be NFL quarterbacks.
Broncos far from settled at QB behind Peyton Manning | Denver Post
The Broncos remain interested in what they have behind Peyton Manning at quarterback.
NFL draft a pro measuring stick for college football programs | Denver Post
The scene in front of him was a mix of "remember when" and the hope of "what will be" for Jon Embree.
Broncos bringing in quarterback draft prospects | Denver Post
Peyton Manning is for today. But Manning also is 36, so the Broncos have to be prepared in case their new starting quarterback has a limited number of tomorrows.
Broncos bringing in QB prospects for NFL draft, including Cousins, Lindley | Denver Post
Peyton Manning is for today. But as Manning recently turned 36, the Broncos have to be prepared in case their new quarterback has a limited number of tomorrows.
NFL draft preview: Top special-teams candidate | Denver Post
Denver Post draft expert Jeff Legwold provides his list of the top special-teams candidates in the NFL's April 26-28 draft.
Peyton Manning's presence will limit Broncos' sacks allowed | Denver Post
Tebow took a sack on 12.2 percent of his 271 pass attempts last season, a red-flag number to any NFL offensive coordinator. By comparison in 2010 — the last season Manning played before neck surgery — Manning was sacked just 16 times, or just 2.4 percent of his 679 pass attempts.
Denver Broncos, Outlaws Hold Tryouts For Cheerleaders | CBS Denver
It's not just Peyton Manning getting ready for the upcoming football season. On Sunday the Broncos Cheer Squad held tryouts for the 2012 season.
Sacha Heppell tries out to be Denver Bronco cheerleader | KSDK
Many dream of becoming an NFL cheerleader, and on Sunday, more than 200 ladies – and one man – got the opportunity to make those dreams one step closer to reality.
Former Denver Broncos player arrested for domestic battery | KDVR
Former Denver Broncos player David Terrell is being held on a $10,000 bond for a domestic battery charge.
Too Much To Tweet: Thoughts on Mario Fannin | MaxDenver.com
He was the fastest running back on the field at training camp last year, and the raw speed of the Auburn product intrigued the team enough to where Fannin's torn anterior cruciate ligament didn't lead them to to write an injury settlement and send him on his way.
Get Some Relief From The Ordinary! | MileHighReport
But when because of that, some members began to lament the fact that the circus left town, (and the biggest response to any articles here lately have been about that circus) and that when it was here, "at least there was something to talk about other than just another guessing game about the up and coming draft", that is when I started thinking.
Broncos Draft Prospects – DT Kendall Reyes | MileHighReport
Visiting the Broncos' Dove Valley facility last week was Connecticut Defensive Tackle Kendall Reyes, who may be on the Broncos' radar with the No. 25 pick. At 6-4, 299 lbs., Reyes fits the size Denver is searching for at the Tackle spot. Born on September 26, 1989, Kendall will be 23 right after the regular season begins.
Broncos To Meet With Brandon Stokley | Predominantly Orange
With the Denver Broncos losing slot receiver Eddie Royal to the San Diego Chargers in free agency, the team is looking to a face of the past to help bring them to future glory.
Manning Pumped For Workouts | DenverBroncos.com
Peyton Manning talks about getting the offseason conditioning program started on Monday.