Posted Thu Mar 29th by Monty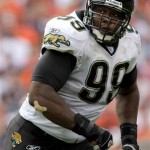 Sometimes it just makes too much sense. Work with me here.
The Denver Broncos have a scary-big hole to fill at defensive tackle. A 6-foot-6, 310-pound, run-stuffing three-time Pro Bowl defensive tackle just announced on Sirius XM Radio he is eying a comeback in the NFL.
And he was in his prime under Denver Broncos defensive coordinator Jack Del Rio.
Marcus Stroud, most recently of the New England Patriots and Buffalo Bills, wants to land with an NFL team in 2012 after spending 2011 out of football, Alex Marvez of Fox Sports reports. The 33-year-old suffered a staph infection following shoulder surgery in training camp last year and was released by the Patriots.
Stroud and teammate John Henderson formed one of the NFL's most formidable defensive tackle tandems as Jacksonville Jaguars teammates from 2002-2007. It was there that Stroud earned his three Pro Bowls under coach Jack Del Rio.
Stroud, a veteran of 10 NFL seasons, says he expects to be fully healthy by June and sees himself as a run-stuffer in a defensive line rotation. The Denver Broncos, who lost out on Brodrick Bunkley and still haven't re-upped Marcus Thomas, are fairly desperate for run-stuffers in a defensive line rotation.
Make him a Bronco, Denver. But wait until June, of course.
Defensive tackle Marcus Stroud plans to return to football in 2012 [Fox Sports]
(H/T @7Broncos7)