Posted Tue Mar 13th by Monty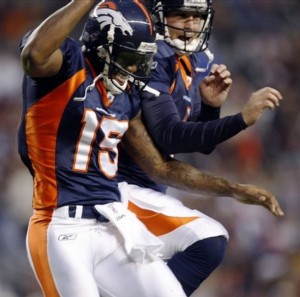 Reunited and it feels so… well, weird for this Denver Broncos fan. Former Broncos BFF's Brandon Marshall and Jay Cutler are about to be teammates again after the Chicago Bears reportedly traded two third round draft picks to the Miami Dolphins to acquire the 27-year-old, high maintenance wideout.
Marshall is the type of tall playmaker the Bears have been looking for since they acquired Cutler via trade in 2009.
The Dolphins traded two second round draft picks in 2010 for Marshall's services, who tallied 167 catches for 2,228 yards in two seasons with the club. Not bad to get that production then turn it into a pair of third-rounders.
The reunions don't stop there — Marshall will also be joining former Broncos offensive coordinator Jeremy Bates, who signed with the Bears this offseason. Cutler and Marshall's on-field relationship was the focal point of Bates' offense in Denver, and it led to both Cutler and Marshall having their best statistical seasons in 2008.
It'll be surreal seeing this trio performing together again, in blue and orange no less. Now if only we can convince the Bears to hire Josh McDaniels as head coach next year…
Bears acquire Pro Bowl wide receiver Brandon Marshall [Chicago Tribune]