Posted Thu Feb 16th by Monty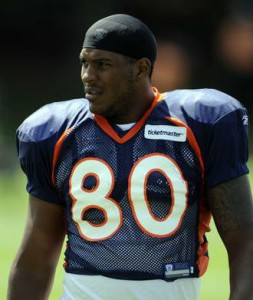 Name: Julius Thomas
Height, Weight: 6'5″, 255
Position: Tight End
Age, Experience: 23, 2
College: Portland State
Julius Thomas was a fourth round draft pick of the Denver Broncos in 2011 who shone in training camp but had a rookie season derailed by injury. A basketball player until his senior year in college, Thomas was a First-team All-Big Sky Conference selection following his 2010 season that saw him tally 29 receptions, 453 yards and two touchdowns. Prior to switching to football that year, Thomas was a basketball star at Portland State. He lettered four times in basketball, leading Portland State to its first two NCAA Tournament appearances in school history (2008-09) and finishing as the program's all-time leader in games played (121), career wins (78) and field goal percentage (.663). Clancy Barone, the Broncos' tight end coach, transformed Antonio Gates from college basketball player to perennial Pro Bowler in the NFL; the Broncos are hoping he can repeat that success with Thomas.
2011 Analysis: Thomas's 2011 campaign was mired by a high ankle injury he suffered in Week 2. He would end up playing in very limited action in three more contests during the season, but he never got right. He had one reception for five yards in Week 2.
Contract Status: Signed through 2014
2012 Outlook: The Broncos are still high on Thomas and hope that, with an offseason of health and hard work, he can become a fixture for them at the tight end position.
As always, we invite you, the readers, to participate. How excited are you by the prospect of this basketball-player-turned-tight-end prospect?

Loading ...
We hope you enjoy these posts as BroncoTalk develops a one-of-a-kind fan-powered Denver Broncos roster on the web.