Posted Tue Jan 10th by Monty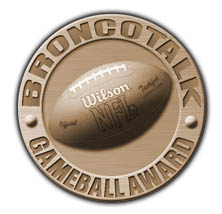 The BT Staff gives out Game Balls following the Denver Broncos' 29-23 overtime victory over the Pittsburgh Steelers on Wild Card Weekend. The first-ever playoffs edition of BT Game Balls tastes about 100 times sweeter than every other edition combined. One last blissful look back, then we pull our attention to New England.

Demaryius Thomas
Hell of a game to pick for a career breakout there Bay-Bay. We were somewhat devastated after seeing Eric Decker go down with a nasty knee injury early, it started to feel a bit gloomy in Mile High. Then the young man from Georgia Tech decided to show he was worth every bit of that 1st round draft pick. DT put on an absolute clinic as a deep threat. Crunch time, 1 play, quick slant, uber stiff arm, history. 204 yards, 1 touchdown on a very momentous day. Some other fun stats, Thomas broke the NFL record for average yards per reception in a playoff game with 51. He also accounted for 64.6% of Tebow's passing yards. – Josh Temple

Robert Ayers
We've been waiting for Robert Ayers to breakout since his rookie season. He couldn't have picked a better time to breakout! Ayers finished the night with three tackles and two sacks, helping the team bring Reothlisberger down five times. – Jon Heath

Eddie Royal
Seriously where do we begin on the game balls? In a game where we were considered serious underdogs, we went to halftime with a 2-score lead and while we weren't able to hold that lead until the end of the game, there were many dramatic stops and some fine football. The entire team performed. And for a change, it didn't seem like the other team lost the game. The Broncos played hard and they played well and they won the game.
It'd be easy to credit the win to Tim Tebow — after all, he takes all the criticism for the losses — and the statistics certainly support that. Demaryius Thomas totally deserves one for his 200 yard performance. What about Robert Ayers with his two sack game? But I've got to give one to Eddie Royal. He stepped up when Eric Decker went down and he caught several key balls, including one of the touchdowns. We've gotten used to Broncos receivers having a case of the dropsies, and that just didn't happen today. And when Decker went down, Royal was the Next Man Up and he answered the call and contributed to an amazing victory. One that the team can go to locker room feeling like they deserved. – E. Halsey Miles

Elvis Dumervil
One play only needs mentioning here. Steelers driving to end the game in the 4th qtr. They make a great conversion down the left sideline to come within a good play of field goal range to end it. Next opportunity Doom puts the nail in the coffin burying Roethlisberger and causing a fumble taking them way out of range. 2 Tackles, 1 Sack, 1 Forced Fumble on the day. – Josh Temple

Quinton Carter
Filling in for the injured Brian Dawkins, Carter was all over the field making plays on Sunday and finished the game with five tackles and an interception. – Jon Heath

Chris Harris
If there was an Undrafted Rookie of the Year award, Chris Harris probably would have received it this season. Against the Steelers, he had another great game covering and tackling. He finished the night with four tackles and several passes defended. – Jon Heath
Mike McCoy
As already broken down in-depth here. What will he have in store for the Patriots next week? (You know New England is wondering the same thing). – Monty

Tim Tebow
I've sung the praises of Tim Tebow this season, and I've sung the praises of Tim Tebow this week. But one aspect of his play Sunday that truly, truly deserves more praise-singing was the quarterback's demeanor. Throughout the week, as the entire media world bombarded him with messages of impending doom (not only for this game, but for next season), Tebow was calm, cool, confident, and collected. It reflected in his play Sunday.
I was a vocal fan each of Kyle Orton, Jay Cutler, and Jake Plummer. None performed like Tim Tebow did when the pressure was on — whether that be the pressure of being in the playoffs or the pressure of another quarterback nipping at his heels. For all the inconsistencies Tebow has displayed, we don't have to question whether he can rise to any occasion in the NFL — he just did. – Monty
Your Playoffs Edition BT Game Balls in the comments!

Loading ...