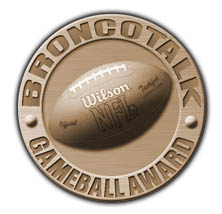 The Denver Broncos won their sixth straight game and now have a one game lead over the Oakland Raiders in the AFC West after their 13-10 win against the Bears Sunday. It was another thrilling come-from-behind victory for Tim Tebow and company. BTer's, let's dish out game balls.
Matt Prater

Tying a career best is never an easy feat. Doing it with half the world watching, and every person that depends upon you as a professional in your craft putting more pressure on you than you've ever had before, is an even mightier task. Matt Prater lined up for the game-tying 59-yard field goal and, ice in his veins, sailed the football through the uprights. Then he nearly matched the achievement with a game-winner from 51 yards (which would have been good from 70). Matt Prater doesn't need this game ball to be feeling really good to be Matt Prater today.
— Monty
D.J. Williams

Broncos rookie linebacker
Von Miller
has been getting a lot of praise
—
rightly so
—
over the past few weeks, but the entire defense and linebacking corps has also been rock solid.  On Sunday, Williams quietly had a stellar game, recording a team-high nine solo tackles (including four for a loss) and two sacks, posting the second multi-sack game of his career.  This week, Williams gets a game ball. 
— Jon
Von Miller

When the opposing offensive line false starts without you moving, you deserve a game ball. D.J. Williams may have light up the stat sheet but it was inpart due to the fear caused by Miller. The Bears struggled on third down all day and Miller was a key factor in that. Once upon a time there were concerns about Miller's ability to stop the run. It's safe to say that this guy isn't a one trick passing down pony.
— Mr. East
Wesley Woodyard
Wesley Woodyard has always been a fan favorite who figured to be a special teams ace and career backup. And that may still be the career he has ahead of him. And there's absolutely nothing wrong with that role. But Sunday, against the Chicago Bears, Wesley Woodyard saved the game. One swipe of his arm, at the exact right time, at the exact right spot, saved the game. If Barber had kept that ball, then the only prayer left was a Robbie Gould miss. But thanks to that one valiant effort, he gave the Broncos' offense one more chance to work a miracle. One chance that they simply did not and under any normal circumstance, never would have had. There is not a single thing more anyone could ever ask of any defensive player. Football players are always saying that when you get your opportunities, you have to step up and make a play, because you don't get very many opportunities. And boy, did Wesley Woodyard ever step up and make that play! — E. Halsey Miles

Tim Tebow

What else needs to be said?  He was off target the first three quarters but he wasn't helped by his receivers dropping balls either.   When the fourth quarter came around, Tebow once again was money.  The Bears knew exactly what was coming yet were still powerless to stop it.  Tebow's passing is coming around and if he can ever put together a full 60 minutes, some poort team is in for a brutal beat down. But at least it will be with a smile! 
— Kris Burke
Honorable mentions: Demaryius Thomas and Elvis Dumervil


Thomas had several inexcusable drops early in the game but came up big when the game was on the line (
boy, does that sound familiar
).  Thomas finished the day with seven catches for 77 yards and a touchdown — his third score in the past two weeks and fourth since Tebow took over at quarterback.
Over the past six weeks, Dumervil has notched 7.5 sacks (1.0 coming against the Bears) and has been a fantastic compliment to Miller.  On Sunday, it was Dumervil that recovered Marion Barber's fumble and gave the Broncos the ball back in overtime.  Play-makers make plays, and Dumervil certainly made plays on Sunday.
Who gets your game ball folks? Take the poll and dish it out in the comments.

Loading ...