Posted Mon Oct 3rd by Monty
The BroncoTalk Staff's collaborative post-loss post tradition returns. Celebrating and noting both the good and bad from Sunday's 26-point loss to the Green Bay Packers.
(Editor's note: BroncoTalk is a five-man show, and we all have different opinions. That's what this column is all about.)
Studs

Stud: Virgil Green.
If it wasn't for the play of an inept quarterback, this game could have been a shootout. Willis McGahee may have rushed for 103 yards on only 15 carries, but that was due to the fantastic blocking of rookie tight end Virgil Green. On multiple plays Green phased out pro bowler Clay Matthews, which is something I don't believe the regular offensive line is capable of at this point. Honorable stud mention to Johnathan Wilhite, whose coverage was so solid against Greg Jennings on one third down, that the referee believed that is was pass interference. – Mr. East

Stud: Brandon Lloyd
It was great to see Lloyd back as a deep threat, catching some balls that were his bread and butter last season. Some day, this team will have Lloyd, Decker, Thomas and Royal all out on the field, and we will have no shortage of good wide receivers to catch balls. – E. Halsey Miles

Stud: Von Miller.
At least one sack in three consecutive games and four total sacks through four games for Milller. That's the first time a Broncos rookie has ever started the year with those numbers. This kid is going to be a stud of the season and a stud for years to come. There are a lot of things Miller can improve on (playing against the run and pass coverage), but he's looked improved each and every week. – Jon Heath

Stud: Eric Decker
Way to get open in the red zone and make a play when we could've been stifled on an under-thrown ball that prevented a touchdown. With our inside the 20 troubles he prevented an ugly field goal from happening. Finishing with two touchdowns was a bright spot. After seeing that second score you have to think Decker might become the new technician of stopping short on a route and making a possession grab while the corner re-adjusts. – Josh Temple
Duds

Dud: Elway, Fox, and Xanders.
This game could have been far less embarrassing with a decent quarterback at the helm. It's very easy to blame the loss on Kyle Orton. However, you can only be so mad at your seventeen-year-old kid for crashing the Porsche, when you were the one who handed him the keys. There was no reason for Kyle Orton to be in that game during the fourth quarter. There was no reason for Kyle Orton to be in that game at all. The Broncos are forking out $17.5 million dollars by rostering three quarterbacks this year (Orton: $8.9 million, Tebow: $7.9, Quinn: 700k), for which it seems like none have a future on this team. – Mr. East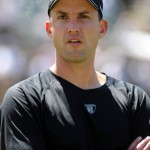 Dud: DC Dennis Allen
Sure, Aaron Rodgers fit in some tight passes into what is normally good coverage for big plays, but just as often he was able to very quickly find and exploit weaknesses in called coverage. Two gigantic plays when a receiver was double covered because the coverage didn't account for the receiver just taking off and going deep? Phil Simms had a great time explaining why Rodgers got such easy completions off those, and it happened TWICE. – E. Halsey Miles
Duds: The referees
Maybe it's just my orange glasses, but I watched the announcers comment on an uncalled facemask on the Packers. Nearly immediately afterward, we get a phantom PI call that wasn't even there. In a game where we could afford no mistakes (and made too many) it felt like the refs sure helped ensure we made mistakes even when we didn't. -E. Halsey Miles

Dud: Cassius Vaughn.
The Broncos defense clearly was missing Champ Bailey yesterday. On quick screen passes in which we've seen Bailey so often make a sure open field tackle after a short gain, Vaughn allowed at least seven to eight yards nearly every time. His coverage down field was also painful to watch, as Aaron Rodgers and the Packers receivers had their way with him the entire game. The whole secondary played like duds on Sunday. – Jon Heath

Dud: Daniel Fells
Turned one of the best looking plays into one of the worst. A lot of guys on the offense stepped up to keep this as respectable as they could, but there is no excuse for fumbling the ball there. He could've finished with a career game. – Josh Temple
Your studs and duds in the comments.