Posted Wed Sep 28th by Monty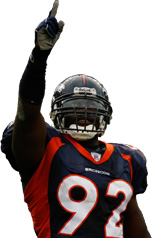 It's the first return to practice in weeks for cornerback Champ Bailey and defensive tackle Marcus Thomas. Another big-named Bronco who missed game action Sunday also returned to practice: defensive end Elvis Dumervil.
All three attended the portion of practice open to the media Wednesday, the Denver Post reports. Missing practice were Eddie Royal, Julius Thomas, and Demaryius Thomas.
Hopefully this is a good sign for Sunday, because the Broncos could really, really, really, really, really use their best players on defense against Aaron Rodgers and the Green Bay Packers.