Posted Fri Sep 16th by Monty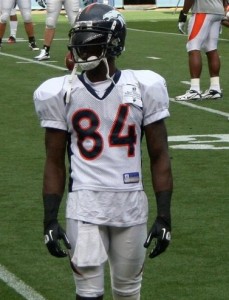 Signs are good that the Denver Broncos will have at least four wide receivers Sunday now that Brandon Lloyd has returned to practice.
The signs aren't so good for the remaining seven sidelined Broncos.
Cornerback Champ Bailey, defensive end Elvis Dumervil, linebacker D.J. Williams, defensive tackles Marcus Thomas and Ty Warren, running back Knowshon Moreno, and wide receiver Demaryius Thomas all missed their third practice this week. Defensive tackle Ryan McBean was also absent Friday, his first absence this week. Bailey, Dumervil and Moreno are all suffering from injuries they suffered in their start against the Raiders Monday night. Those three are listed as "day-to-day," and head coach John Fox wouldn't rule out the possibility they play Sunday even if they're not able to practice.
Williams, Warren, and the Thomases are all recuperating from previous injuries and will likely be ruled out for Sunday. No word on McBean; we'll know more when the Broncos' official injury is posted later today.