Posted Fri Sep 9th by Monty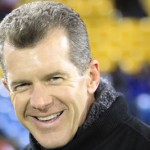 Ted Sundquist served as Director of College Scouting for the Denver Broncos from 1995-2002 and General Manager from 2002-2008. Today he launches a new website, TheFootballEducator.com, full of tidbits on scouting and draft preparation. He was nice enough to chat with BroncoTalk about the NFL lockout, Tim Tebow, Von Miller, and the state of the Broncos franchise.
BroncoTalk: First, if you would, let the fans know what you've been up to. We see you are starting a blog and doing some analyst work. Tell us about it!
Ted Sundquist: I have tried to stay on top of the NFL situation and officially interviewed with KC in '08, spoke with SF in '11. I've done quite a bit of media work through ProFootballTalk.com, 670 the Score in Chicago (weekly show), ESPN spots, The Mtn Network; Draft Analysis, College Football Saturday, Around the Mountain, Player Personnel Director for the Omaha Nighthawks of the UFL '10. Launching a website soon TheFootballEducator.com. I also sit on the Athletic Foundation Board at US Air Force Academy and am active in the alumni "Pride Club".
BT: Football is here, but, for a while there, it looked like it wasn't going to be. What was your take on the NFL lockout this offseason? As a former GM, was there a side (players or owners) you felt like you were more empathetic toward? How do you expect the lockout to affect the players and/or games this season?
TS: The Lockout was a result of "Buyer's remorse" on the part of the owners after the last agreement in '06. They were almost immediately working to get out of it. Felt there was a lot of politics surrounding the entire situation; NFL wouldn't let a season go by but did everything to make you think they would. NFLPA's De Smith had to come across as a leader in his first round of negotiations on behalf of the union, probably played hard ball as a result.
I leaned more towards the players as an outsider, but do feel that the rookie wage scale needed to be fixed. The result was a system that might as well be described as a "slotted", though neither side will do that. You can all but tell a rookie exactly what he'll make once his name is called at the podium. Now I wonder why rookies even need agent representation at all? Union lawyers could provide the legal explanations & answer any questions. Would save the young players some money and help eliminate agents crawling all over college campuses.
I don't like the idea of a 10 year agreement, though I know everyone else does. But I think those reasons are a bit selfish on the part of everyone. Two of the three players that represented the "players" won't even be around shortly, and the next generation of young player (many still in high school) are stuck with what appears to work "now". After 7 years, will the NFL landscape & economy even resemble what it does today? I don't think so. For example, if your kid were a teacher, police or fireman and was stuck in a labor agreement formulated five to seven years earlier (but it wasn't reflective of the times & situation) wouldn't you want him/her to have the ability to change it?
As far as teams having more to spend on veterans. I think that the majority of the money will still go to the top players. Though min salaries did go up by about $15k, that is really just a drop in the bucket percentage wise per player. Agents and the clubs may just use the "windfalls" to "jack up" the cost of the top Free Agents. We saw that a bit with some of the deals this season. With spending floors, I can't see clubs spending MORE for a utility LB. I see them competing more heavily at the top. Rich get richer.
As for the players and games. I thought that initially it would hurt the undrafted players, but I recently heard there are more on rosters than ever. That goes with past trends of 2 deeps being made up of 1st & 2nd round choices, along with undrafted free agents. Can't really explain that one quite yet.
Appears to have been a lot of injuries on the front end of the season with lack of prep time, but I think in all there will be less on the back end.
I don't see the games really be affected at all and feel there will still be quality football in 2011.
BT: Tim Tebow has been the center of a media circus this offseason, with analysts such as Merril Hoge and Boomer Esiason making some tough critiques of the once-projected starter. What have you seen from Tebow that makes you believe he could be a starter in this league. What have you seen that hasn't?
TS: Tebow has the intangibles of grit, work ethic & determination. He's been a past winner and displays the competitive fortitude you want in your QB. He is obviously media savvy and knows how to handle & market himself and the club. He is a bit polarizing at times in the locker room but overall well liked by teammates. He is strong and elusive in the backfield and obviously has the upfield skills to run the ball effectively.
As QB his release has improved but is not what you'd call a top tier delivery. He tends to lock on to his primary receiver and is not efficient in the nuances of the position (for example, just finished watching Kellen Moore of Boise State (not anywhere the athlete) but is outstanding at the details of the position). He is not an overly accurate thrower downfield. He still looks to run first (partly because he is so darn competitive and trying to make a positive play). Though he can run, he is not the elusive type QB a Michael Vick is, or even for that matter Jake Plummer was.
I know how badly so many of the fans want him to be "the guy" but tell me who he reminds you of that has taken their team deep in the playoffs or to a Super Bowl lately?
BT: What do you see in Von Miller? Would you have drafted him #2 overall?
TS: Von Miller is a great kid. He is an explosive presence off the edge and has the athleticism to give OT's fits. Coupled with Dumervil, it will be difficult to account for both of them at the same time. You eventually run out of help.
I think his "achilles" heel will be actual LB play and dropping to coverage. I think you have to keep things relatively simple for him. You can never have enough pass rushers, but DEN had a similar player in Dumervil already (albeit coming off injury). DT is not as "sexy" a sell to your fans, but they passed on a really good one to take Miller.
What I will say is that I wasn't in the War Room to hear the discussions and it's very hard to critique these decisions having been there myself. All the best to Von!
BT: What are your thoughts on the Broncos' personnel this season? In what ways are they worse or better from a year ago? From 2005?
TS: As far as personnel goes, again hard to critique. However, if the Orton trade was not just a rumor but actually a true attempt, they would be in a pickle. Offensively I don't see that big a difference from the past few years. Same scheme, same personnel. Changes at TE, ROT. Shifted around some RB's. Gaffney gone. But otherwise about the same. Probably will try to run the ball more. See more of an emphasis on personnel vs scheme in the run game. There is potential big play ability at WR that still have yet to see.
On Defense, obviously the addition of Miller and return of Dumervil. The young safeties appear more aggressive. Interior DL was addressed but health is a question. I think the shift back to a 4-3 suits the personnel better and will allow for a bit more aggressive play in the front 7. DEN did way too much "catching" at the LOS the past 2 seasons in the 3-4. Fox will obviously emphasize and take pride in the DEF as the head coach.
As how it compares to '05? That team had been built over the past few years to reach that spot. 3rd straight year to the playoffs. There was experience and continuity. The offense was #5 in the NFL and the defense was tied for 3rd in scoring (16.1). To compare player to player is difficult to do, only because each set of circumstances is different (new head coach, new defensive scheme, coming off terrible season, etc…). We clearly were not ready vs Pittsburgh, but I don't think it had anything to do with personnel.
BT: We can imagine the complexities of working as a GM with a head coach who had final personnel say like Mike Shanahan did during your time in Denver. If you would, give us a draft pick the Broncos made under your tenure with which you were heavily involved that really worked out for the Broncos.
TS: This is a question I get frequently and is always difficult to explain. The media/fans gave the Head Coach way too much credit for the good and way too much blame for the bad. The only way that scenario ever works out is when that individual takes a integral part in the overall personnel process. The entire staff was involved in the evaluation of players and submitting reports. I had almost 4000 reports in the computer by the time I left in '08 (College Director and GM).
My point is that I felt the information was always thorough and detailed enough to make the correct decisions at the time (regarding the individual player). Philosophy tended to get in the way, need vs talent. The head coach drafted by need, which tended to push players "up" our board. GM's tend to draft by talent with the idea of the "big picture" from a "long term" perspective. Coaches are driven to WIN now. Big Difference.
What was a player that I was involved with? I was involved with every one of them from an evaluation aspect. The one player that sticks out that we didn't have a need for but I pointed out was a great value at the pick was Clinton Portis. We had Portis as a first round talent that was sitting there in the second round as our pick was coming up. I felt it was a great opportunity. I could give you more; Dumervil, Brandon Marshall, Darrent Williams, Trevor Pryce, Quentin Griffin, Mike Anderson, Ian Gold, Al Wilson.
But I had my share of players that didn't pan out as well. What the fans and media should realize is that a number of players don't "make it" not because of the lack of talent and potential, but because of the surrounding set of circumstances they're drafted into; wrong system, too much depth at position, poor coaching, no developmental plan or patience.
We took some stabs at players and we missed. I don't feel it ever crippled the team.