Posted Tue Aug 2nd by Monty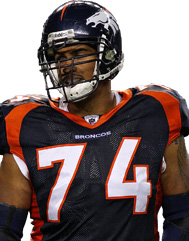 UPDATE: Following his visit with the Broncos, Ryan Harris agreed to terms with the Philadelphia Eagles. What a trendsetter.
The Denver Broncos are expected to add a missing piece to their offensive line Tuesday — a missing piece they already had.
Free agent offensive tackle Ryan Harris is, officially, "visiting" the Denver Broncos as a free agent today, reports the Denver Post. The fourth-year lineman out of Notre Dame is expected to sign the deal today, according to the report.
Harris had an impressive start to his career in Denver but has been marred by injuries. The Broncos drafted OT Orlando Franklin in the 2nd round and intend for him to be the starter at right tackle; Harris can provide depth and competition on the right side as well as backup experience for Ryan Clady at left tackle.
Harris' "visit" mirrors the situation of his draft classmate Marcus Thomas, who signed a one-year deal with the Broncos following a free agent visit last week.
Competition at right tackle and depth at left are both good things. Let's hope they get this deal done.
Broncos offensive tackle Ryan Harris likely to re-sign today [Denver Post]