There was panic across Broncos Country when the news broke that Broncos rookie linebacker Von Miller and safety Quinton Carter both left practice early with injuries.  Relax, they'll both be fine.
Carter struggled with the heat, as well as three other rookies, which is understandable in Denver's high altitude.  Head Coach John Fox said Carter had "Heat Stress" and the rookie was given an IV.  He is expected to be back as early as tomorrow.
Miller, like Carter, was participating in his first full practice and suffered a thigh bruise.  Per Miller, he'll be back on the field as soon as possible.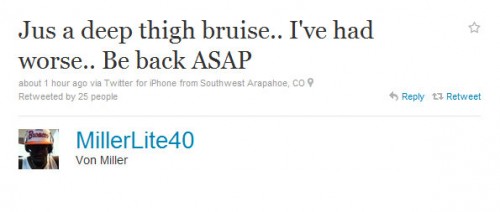 Hopefully both players will be back on the field soon.  I nearly had a heart attack there for a minute.