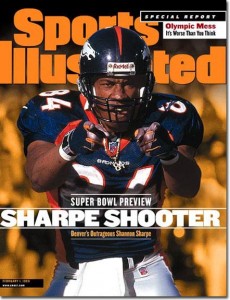 As they say, third times the charm.
For the third consecutive year, former Denver Bronco tight end Shannon Sharpe has been named a finalist for the Pro Football Hall Of Fame.  The 2011 class will be announced the week of Super Bowl XLV.
Named to the Broncos Ring Of Fame in 2009, Sharpe retired leading all tight ends in receptions, receiving yards and receiving touchdowns.  Furthermore, he owns more Super Bowl rings, Pro Bowl selections, career receptions, yards and touchdowns than Every tight end enshrined in Canton, Ohio.
It's outrageous that Sharpe is not yet in the Hall, this better be the year he gets in. Former Broncos running back Terrell Davis should be soon to follow as well.