Posted Wed Aug 11th by Monty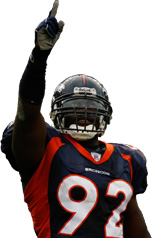 A day after Elvis Dumervil underwent surgery to repair a torn pectoral — recall that the Broncos were waiting for this surgery to really determine how long Dumervil would be out — the Post's Mike Klis opens his mailbag with this little ditty:
"Let's begin this mailbag by stating that based on nearly everything I've been hearing, Elvis Dumervil is expected back this season."
It's ok, do your little dance around the computer, we'll be here….
…Never mind, just keep dancing. We still are.
Broncos Mailbag: Denver insured on Doom, but he'll be back [Denver Post]