Posted Sun Aug 1st by Monty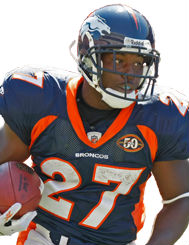 Kolby Smith, welcome to the top of the Denver Broncos' running back depth chart.
Broncos running backs Knowshon Moreno and Correll Buckhalter both left the team's first training camp practice Monday morning with unspecified injuries. Moreno was carted off the field before Buckhalter limped off just a few minutes later.
Head Coach Josh McDaniels wouldn't comment or speculate on either player's status after practice.
UPDATE: Buckhalter is thought to have suffered a minor hamstring injury. The Broncos are awaiting MRI results for Knowshon, who injured his right knee. CBS 4 reports they are looking at his ACL.
Good thing the Broncos have J.J. Arrington as well… oh, wait.