Fresh cut grass, morning mist, shouting in the distance from someone, the sunlight burning your pupils, the smell of blood, everything blurry and tinted yellow. Then, a crowd, a crowd that got here even earlier than you. They're here just to see you… And you just got your first glance of them.
Training camp.
This is it, you're here because you're about to do what you were born to do; thrive. The borderline hallucinatory hangover one gets from waking up far earlier than they normally do, all of that is punishment. The punishment for living above your means, working too hard, pushing yourself past your limits, achieving your dreams; by any means necessary. Self preservation, survival, doing what it takes to win– whatever it takes.
On this the first day of the Denver Broncos reporting to training camp. I'm in New York working on pre-production of a film, so I won't be there just yet, but I will be there soon.
Being the case, I'm going to go ahead and make several predictions and send the rest of my BroncoTalk brethren into the fire to defend this site's honor. Good luck guys, I'll be here in the comment section.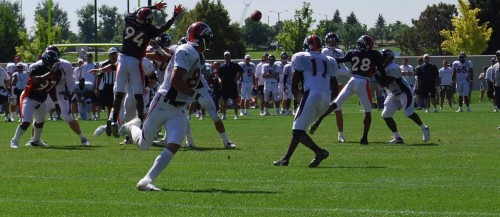 Kyle Orton will make the Pro Bowl:

Think Orton won't?  He had a career season last year, did you not notice? What in the hell do you think he's going to do in his second season under Josh McDaniels' system? Fail? It's a contract year for Orton and all the signs are pointing to the man being a gap replacement. I'd put money on Orton making the Pro Bowl (with an injure clause that would negate the deal). Heck, he should have been in last season over the Jacksonville Jaguars quarterback David Garrard (whom he topped in every important category practically).

Knowshon Moreno will stun the NFL:

Well, I don't want to say stun. Most who have read any fantasy football analysis already see that most are giving Moreno credit as a sleeper. A sleeper being someone who most people won't have on their radar, but will surprise. I say he'll do more than that, despite what many fans think the Broncos haven't shifted much as far as scheme goes on their offensive line. Gone are the tiny men of the Shanahan era and there isn't a single offensive lineman currently on staff in Denver under 300lbs, but to think that McDaniels is going to come with Patriots 2.0 is crazy. McDaniels knows the deal and has had an entire off-season to prepare all new plays and schemes.

Demaryius Thomas will start game one:

Not so bold, I know, given that he is a first round pick and all, but 50% of the Broncos first round picks this season won't be starting in the first game.  Thomas isn't going to make anyone forget about Brandon Marshall anytime soon, but he will fill the void left by Jabar Gaffney pushing over to flanker and possibly even put veterans like Brandon Stokley and Brandon Lloyd on the bubble. Don't forget about young Kenny McKinley, whom I completely expect to be the Broncos fourth receiver in the rotation, not to mention rookie Eric Decker.

Brandon Stokley will be cut:

He's one of my favorite Broncos and I know that he's a lot of fans favorites, but I mentioned Eric Decker earlier, he is probably more of a threat to Eddie Royal and Stokley than McKinley or Lloyd… There are only so many spots available and Denver currently holds ten receivers on their roster (three are options for the scouting team) and will likely only place five on their roster. Lloyd proved genius in the final two games last season. Stokley will definitely land on his feet, most likely with the Washington Redskins (who need a lot of help at wide receiver).

Broncos offense will finish in top ten in the NFL:

You know that 'dink and dunk' offense that everyone hates? Yeah, that's what Peyton Manning and Tom Brady run too, they just have been doing it for years. The reason they've been doing it for years is that it's difficult to stop, because it works. Most teams offenses haven't yet trended towards this system, but i think this is the year that this offense becomes as trendy as the 3-4 defense became last year (watch for the Atlanta Falcons specifically). Yes, as Denver fans at times what we saw was painful last season, but it will be different this season. A swollen offensive line which has gotten significantly younger, a quarterback and running back in their second seasons in the scheme and a receiving corps that's good beyond paper… That's a recipe for success in the NFL.

D.J. Williams will have a career year:

What's the one thing D.J. Williams has lacked most of his career? A defensive line, not the case this season, Williams will be a head huntin' and helmet cracking. I'd nickname him right now if D.J. Williams wasn't an intimidating enough name on its own. Williams is a perennial bubble Pro Bowler who benefited behind the scheme of a great linebacker coach (Mike Nolan) and will only benefit more from having his linebacker coach from last season take the horse by the tail.

Matt Prater will make the Pro Bowl:

He should have been last season, this year the announcers will be aware of him and so will the voting public, the coaches and football players who get to put him there.

The Broncos will all but alleviate the catching tight end from their offense:

Few fans would even know who Richard Quinn is had the Broncos not been so questionable in drafting him last season. Well, he's the number two tight end going into training camp today. Can anyone name number three without looking at a depth chart or roster? Denver's unwillingness to court Ben Watson (one year younger than Daniel Graham and a better catching threat) this off season, shows that they're more worried about their tight ends being able to block than catch passes (sorry Mr. Graham).

Eddie Royal's sophomore slump will extend into his third season:

The heat is on Royal, as I'll further explain. I know this is going to get me lynched, but just look at how the Broncos drafted in 2010, I understand drafting a receiver, but two and a prolific punt/kick returner? Marshall didn't play the slot, nor did he return punts… Royal did though and the Broncos drafted players that do both. There are teams in the NFL that Royal could be a number one or two receiver on, but I just don't see Denver as being one of them. I hope that I'm wrong, because social media wise, (at least amongst Denver fans) he's become the people's champ.

and the hail mary…

Tim Tebow will play Week One against the Jaguars:

I wanted to say start, not play. I can't imagine anything more amazing than Tebow jogging out into the huddle as his hometown crowd goes nuts. However, the Broncos would lose whatever steam they had going when they pulled him out on the next play for Orton and were met with boo birds. However, if the Broncos are behind in a close game against the Jags, expect Tebow. If anything I'd do it just so that from that point on opposing teams will need to waste time preparing for him.

Now, keep it tuned here, we're going to cover as much as physically possible, with all of your inside information from Broncos training camp 2010. Kyle's on the ground in Denver and will be reporting, we've got Jon there this week and possibly even East.