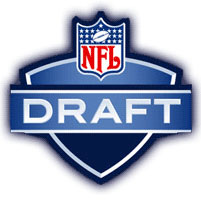 *Update 4/27/10 12:18 a.m. (EST)
Thought the draft was over? Well, you'd be right.
That doesn't mean that the search for undrafted talent is over, there was a feeding frenzy amongst several undrafted players. Players like Oregon running back LeGarrette Blount being snatched up seconds after the draft had ended by the San Francisco 49ers Tennessee Titans.
There's always a diamond in the rough; just ask the undrafted Denver Broncos poster boys linebacker Wesley Woodyard or better yet, legendary wide receiver Rod Smith.
Currently there are an endless amount of prospects out there.
At least one being homegrown, Vic Lombardi of KCNC's CBS4 is reporting that the Broncos are close to signing Colorado University tight end Riar Geer.
While West Viginia University Buzz is reporting via twitter that the Broncos have signed wide receiver Alric Arnett.
Finally a running back, Oklahoma's Chris Brown via Ed Thompson of Scout.com's twitter.
Young defensive tackle talent out of Mizzou Jaron Baston via coach Pinkel's twitter account.
A whole lotta UDFA's via here.
Confirmed signings via various sources:
WR – Alric Arnett (WVU)
RB – Chris Brown (Oklahoma)
DT – Jaron Baston (Missouri)
TE – Nathan Overbay (Eastern Washington)

TE – Michael Palmer (Clemson)

OT – Chris Marinelli (Stanford)

S – Marcellus Bowman (Boston College)

G – Michael Shumard (Texas A&M)

TE – Riar Geer (Colorado)

CB – Cassius Vaughn (Ole Miss)

RB – Toney Baker (NC State)

S – Kyle McCarthy (Notre Dame)

OLB – Kevin Alexander (Clemson)
WR – Patrick Honeycutt (Middle Tenn. State)
DE – Ben Garland (Air Force)
OL – Paul Duncan (Notre Dame)
ILB – Devin Bishop (California)
OLB/DE Korey Bosworth (UCLA)
DL – Jeff Stehle (Wisconsin)
WR – Landis Williams (Maine)
FINAL UPDATE: As of 4/27/2010 our list is complete and we added three more players and ruled out the signing of Michael Palmer (TE) from Clemson. [verified at the official site].
Also check out the official site link for bios on the players.
We will keep the list updated as the news flows in, meanwhile battle it out in the comments and let Josh McDaniels and Brian Xanders know who they're forgetting.