Sorry about the delay in posts, I promised myself that I wouldn't let football get in the way of my coursework this year. However, I am back and ready to write a lot of posts pertaining to the draft. The new forum of the draft puts us a day closer to knowing who will be added to Broncos roster (provided Denver doesn't trade out of round 1). With the Marshall trade Denver now has three picks in the top 45 slots of the draft. With rumors that Tony Scheffler is headed to the Bengals, the picks could pile up. Keep in mind with a defense this old Denver needs all the picks they can get.
Round 1
Does anyone actually have a clue of what Josh McDaniels and Brian Xanders are going to do here? To be logical you could assume that they will target a linebacker, center, or a guard seeing how they showed Casey Weigmann, Andra Davis, and Ben Hamilton the door. However, don't bank Mike Iupati this high or at all for that matter. Josh McDaniels resigned Ross Hochstein and he just might keep him on as band-aid status. So who goes to the Mile High City in round one?
Pick 11: Rolando McClain, ILB, Alabama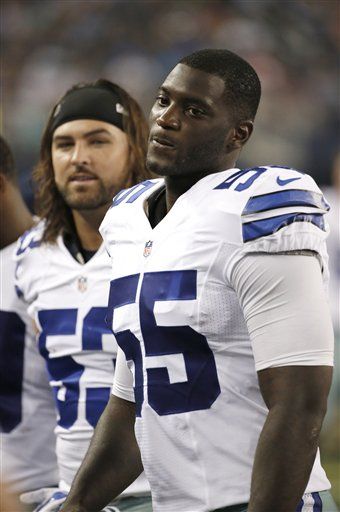 I truly believe that McDaniels is sold on McClain and he will not hesitate if he's there. McClain fit the mold of what Nick Saban wanted out of his mike linebacker. The football intelligence McClain possesses is off the charts. One crazy tidbit about McClain is that he's only 20 years old. The guy can't even buy a beer yet. The downside side to McClain is he's speed and possible lack of upside. McClain ran a decent 4.68, his 40 time may be the only reason why he might be available at eleven. Some scouts have worried about McClain's upside. The question is, is what you see is all you're going to get? McClain may be an instant starter but will he truly improve on an NFL level? On a side note, I don't this his Crohn's disease is anything to be concerned about. If he could play like that in college he should be fine physically.
The kink in that plan is that Jacksonville really want to trade down, and other teams are dying for a franchise linebacker. It wouldn't surprise me if the New York Giants trade up and snatch McClain one spot before Denver. If that's the case Denver has to rethink their game plan.
Back Up Plan – Trade Down: Maurkice Pouncey, C, Florida
Should Denver look for their Marshall replacement that high? I'm not entirely sold on the notion that Denver will then turn to Dez Bryant. I believe they'll attempt to trade down and grab Maurkice Pouncey. Pouncey would immediately the Broncos need at center. This Gator alumnus has the big body to excel in the new blocking scheme being instilled in Denver. Pouncey is also quite versatile, he can fill in at guard when needed.
A problem could arise though if Denver can't find a suitor in the lower first round. Now do they reach on Pouncey, disregarding positional value, or take Byrant and get bang for their buck? This question I can't even begin to answer. It wouldn't surprise me at all if Pouncey came off the board at eleven.
The first round is an obscure situation, and it will make Thursday very interesting. What do you think Bronco fans? What will Denver do in the first round?