Posted Fri Feb 5th by Monty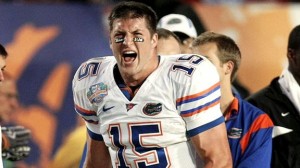 This is the next piece in the BT Staff tryouts, this time coming from Sam Walter — enjoy!
Tim Tebow.
I'm sure by now we've all seen his resume. He's won a Heisman Trophy, two National Titles at Florida, was a two-time First team All-America QB and has garnered more national media coverage than any other college player in recent memory. He leaves Florida with a record of 48-7, 145 combined touchdowns (rushing and passing,) 9,286 passing yards and an additional 2,947 yards on the ground. He is considered by some to be the greatest player in College Football history…
And I want absolutely no part of him in a Denver Bronco uniform. 
Sure, Tebow was an amazing college quarterback, but I have some serious doubts about his ability to translate to the NFL game. He has struggled to take snaps under center, he has trouble reading defenses and he makes some questionable decisions in the pocket. He might be able to get away with his slow delivery in college, but I'm already having nightmares about Nnamdi Asomugha licking his chops as Tebow telegraphs another pass in his direction.
I'm not saying that Tebow won't eventually turn into a decent NFL quarterback. He has that leadership and drive to succeed that could help him develop in a couple years. The problem is that the Broncos already have a developmental quarterback on the roster in Tom Brandstater. If the Broncos re-sign Kyle Orton, cut ties with Chris Simms, and draft Tim Tebow, then they would go into 2010 with two project QB's backing up an historically fragile starter.
I have to believe Denver is looking to go quarterback in the draft this year. I don't see Sam Bradford or Jimmy Clausen dropping to 10/11 and I don't think Denver would want to trade up to get either of them. Colt McCoy, Tony Pike or Dan LeFevour are all going to be there in the second or third round and any of them would be better than Tebow in the short run.
One direction Josh McDaniels and Brian Xanders could go would be to take a flyer on Northwestern's Mike Kafka in the seventh round. Kafka and Tebow ran similar spread offenses in college and are similar style quarterbacks; runners with big arms. Take a look at both of their post-season scouting bowls (East-West Shrine game for Kafka, Senior Bowl for Tebow.) Kafka looked very sharp in leading the East team in the two-minute drill, throwing a game-winning touchdown with 5 seconds on the clock and was named offensive MVP. Tebow struggled all week in practice and looked downright awful in the game itself.
Don't get me wrong, I'm not saying that Kafka is going to go on to have a better career than Tebow. I just think that Tebow is going to take at least four to five years to develop into a legitimate NFL player and Denver just doesn't have that kind of time to wait around. Kyle Orton probably isn't the franchise quarterback that will take the Broncos back to the Super Bowl. But they can't afford to take a second round pick on a QB who won't be a legitimate threat until 2014. Some NFL team will take Tebow and quite possibly succeed in developing him into a solid player, I just hope it's not Denver.