Posted Mon Jan 18th by Monty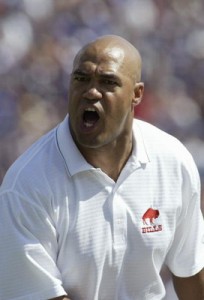 The Denver Broncos have formally asked permission from the Buffalo Bills to interview running backs coach Eric Studesville, the Denver Post reports. Studesville, along with the entire Bills coaching staff, was released by the Bills at the end of the season, but permission is needed since he is still technically under contract.
Studesville has been coaching running backs and coordinating team running games off and on over the past decade, as the Post details below —
Prior to his six seasons with the Bills, Studesville was the New York Giants' running backs' coach from 2001-03. His 1,000-yard runners include Tiki Barber, Willis McGahee, Marshawn Lynch and Fred Jackson, who has developed from an undrafted rookie from Division III Coe in 2003. Jackson spent two years playing in indoor football leagues, and a third year in NFL Europa before getting his chance with the Bills in 2007.
The Bills ranked 16th in rushing in 2009; the Broncos, 18th.
Broncos interested in Bills' RB coach [Denver Post]