Posted Tue Jan 12th by Monty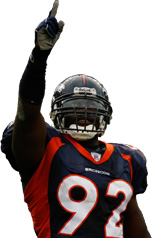 It was a career year for Elvis Dumervil. The fourth-year Denver Broncos defensive end/outside linebacker finished his 2009 campaign with 17 sacks, 49 tackles (42 solo), and four forced fumbles.
On Tuesday, the Associated Press recognized Dumervil's achievements with a third-place vote for Defensive Player of the Year. Green Bay Packers CB Charles Woodson won the award with 28 out of 50 votes, and New York Jets CB Darrelle Revis finished second with 14. Dumervil tied for third with three.
Dumervil might not have taken away the league's most coveted prize for a defensive player, but he did net several other marks of significance:
His 17 sacks led the NFL in 2009, making him the first Broncos sack champion in franchise history.
That number also placed him first all-time in franchise annals, above Simon Fletcher with 16.
His 10 sacks on third down tied an NFL record.
Dumervil was voted as a starter in the 2010 Pro Bowl, a career-first.
Congratulations to Dumervil on a remarkable season made all the more impressive by the transition he underwent.