Posted Fri Jan 8th by Monty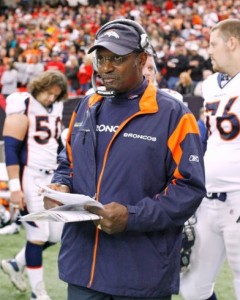 The first sign of a Denver Broncos migration to the newly Mike Shanahan-led Washington Redskins leaked Friday, and it involved a rebuffed reunion between Shanahan and his longtime running backs coach Bobby Turner.
The Washington Post reports that Washington requested permission to interview Turner for a position on Shanahan's staff, but Josh McDaniels, who kept Turner as RB coach when he was hired last January, denied that request.
Now, our understanding of league rules is that the Broncos would be required to allow another team to interview a coach on their staff if the new position involved a promotion. This would suggest that Shanny wanted to bring in Turner for the same role — running backs coach.
Technically, if Shanahan wanted Turner badly enough, we believe he could offer him a job with a minor pay bump and a title along the lines of "Assistant Coach — Running Backs." Would that be a slap in McDaniels' face? Maybe. Would Shanahan care? Probably not. Was the Broncos' denial already a professional discourtesy? Who knows? Are we tired of asking rhetorical questions? Maybe.
If it was a discourtesy on McDaniels' part, and if the two are expected to scratch each other's backs this offseason, it's a poor first impression.
Either way, for now, Turner stays in Denver.
Redskins denied permission to interview Broncos' Turner [Redskins Insider]