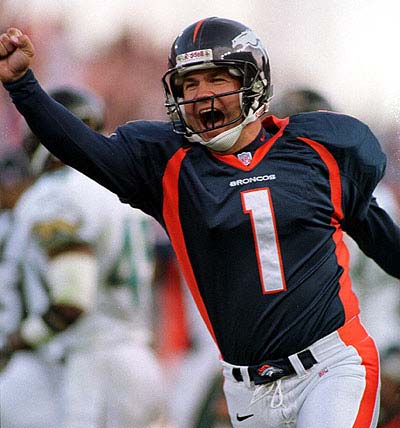 One of the most controversial moves of the 2008 offseason was breaking off contract talks with star placekicker Jason Elam.  Elam had been looking for a healthy contract to finish out his career in the mile high city and Mike Shanahan offered what he deemed a very good incentive package to stay.  It ultimately ended up being Shanahan's philosophy that divided the parties.  Mike felt that a handsome salary had been offered for an aging kicker that required two roster spots.  Denver had been employing the services of a 3rd kicking specialist for the sole purpose of kickoffs.
Talks with the Broncos finally stopped and  Elam received the contract he was looking for back in his home state of Georgia from the Falcons.  That following season, Denver struggled mightily with then replacement and current kicker Matt Prater.  The 2nd year kicker completed only 73.5% of his field goals and even missed an extra point.   Jason proved to be what the Falcons paid for, the kicker with shoes in the hall of fame.  He was Mr. Accurate completing a career high 93.5% of his field goals.  Some of that can probably be attributed to playing in a dome, but he kicked brilliantly nonetheless.
Many Bronco fans and critics (myself included) said it was the wrong move to let Elam go.  He was reliable.  You never second guessed a field goal from inside 50 yards.  Even 50+ you were very confidant.  It was disheartening to watch a young kicker struggle with what was previously deemed easy kicks.  Letting Elam walk out the door only to struggle with Prater felt like the wrong move.
2009 has been a completely different story for the potential hall of famer.  Jason has struggled to say the least.  He currently sits at a career low 62.5% on FG attempts.  Not even his season following rehab from a devastating pelvis injury from a block during kickoff coverage saw numbers like this.  The Falcons are bringing in four kickers this week to compete for a job.  The list includes recently released Raven Steve Hauschka.  This comes the week after Elam missed a 35 yard attempt against the NY Giants in a game that went to overtime and saw Atlanta came away with a loss.
Head coach Mike Smith has stated that Elam may only be replaced on longer field goals.  The dropoff in his accuracy and relability has been startling.  While Matt Prater's percentage here in Denver has slowly increased over last year.  He now sits at a respectable 78.9%.  It looks as if our old head coach and front office foreman may have been right on this one although it probably isn't a franchise move Bronco nation wants to gloat over.  I'm willing to bet that I speak for many fans and wish Mr. Elam well in his endevevours as he will always be a Denver Bronco.  The guy that drilled a hall of fame 63 yard field goal in a playoff game no less.