Posted Fri Nov 20th by Monty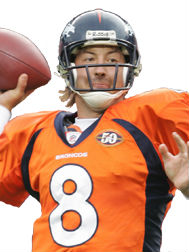 Quarterback Kyle Orton has been held out of practice for a third straight day with a severely sprained left ankle, but that hasn't kept him and head coach Josh McDaniels from hoping Orton can play Sunday.
"Absolutely," McDaniels told reporters before practice Friday. "We'll continue working with him and hopefully we'll be ready to go on Sunday."
McDaniels said Orton will be listed as questionable, and the plan is to test out Orton's ankle before the game on Sunday. If he can't go, Chris Simms will get the start.
In the Mike Shanahan days, missing a week of practice meant there was zero chance of playing Sunday. While we find it unlikely McDaniels would give the keys to his offense's Camaro Camry without a test drive all week (hey — scoring 34 points in three weeks downgrades your offense's vehicular metaphor), we'll just have to wait and see.
Orton will miss practice again [Colorado Springs Gazette]