Posted Tue Nov 10th by Monty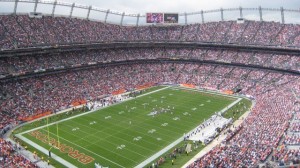 With 1:22 left in the fourth quarter, Pittsburgh Steelers wide receiver Hines Ward leapt over Denver Broncos cornerback Champ Bailey, strode through the end zone and straight to a throng of black-and-gold-clad Steeler fans, taking only a moment to find one donning his #86 jersey.
As Ward put the football in the fan's hands, and the game out of reach, I wondered aloud which was more disgusting: the ease of Ward's touchdown, or the ease of which he found a migrating fan wearing his jersey in Denver's stadium?
The City of Pittburgh completely overwhelmed every inch of Invesco Field at Mile High Monday night, from the front row to the luxury suites to the nosebleeds to the hashmarks. And every Broncos fan — you and I included — shares the brunt of the blame.
Now, there are certainly degrees of guilt involved in this lack of Broncomania, and I plan to discuss each in incremental levels of fan depravity. Let's first absolve those who did attend. Let us celebrate the season ticket holders who would not be bought out. Let us offer a Mile High Salute to the fans who purchased single-game tickets and cheered for the Broncos through the fourth quarter. The end result was not what any of us had hoped, but Invesco Field is not the same without you.
Now, let us discuss the classes of Broncos fans who should be embarrassed by the state of affairs in Denver last night. And I invite you to look inward to see if you fall into any of these groups.
The Perhaps-Displaced Broncos Fan who could afford to go but didn't plan ahead of time or made excuses not to
I admittedly fall into this category. I'm a 12-hour drive away from Denver and made the trip only three months ago to cover the team during training camp. I've never been to a game in Denver.
I don't expect every fan to attend every game, but how many of us can afford to go to a game (or more that one game) and simply don't because of the inconvenience of travel?
Now, I have excuses. I'm a senior in college (technically), and am not made of money. I'm blessed to have two good part-time jobs that pay the bills, and while I live relatively month-to-month, I know that, if I had made it a priority, I could have gone to a game this season. I should have known that, after the AFC Championship Game in Denver in 2005, Steelers fans would show up in droves to invade hostile territory on a prime time Monday Night game. With a bit of foresight, I could have arranged to get off work. I could have held off on purchasing this or that. But I didn't make it a priority.
Thousands of Pittsburgh Steelers fans from all over the country made it a priority. Their level of fandom, at least in regards to being dedicated to seeing and supporting their team in person, exceeds mine.
So before I cast stones (and believe me, I'm about to cast stones), I look inward to my own glass house and see that I'm by no means the perfect fan. Twenty thousand Steeler fans took it upon themselves to attend the game in Denver last night. I didn't.
And looking back, I ask myself, "Why not?"
The ticket holder who couldn't go and cut their losses by selling it to Steelers fans
Frankly I have little pity for you. Sell it to a Broncos fan. Give it to a Broncos fan. If you made the decision to buy the ticket in the first place, you obviously meant to go. You are barely a shade better than…
The season ticket holder who deliberately sold his or her seat to make a quick buck
You are the worst Broncos fan of all, and my blood admittedly boils at the thought of you. The Broncos have a season ticket waiting list that takes years and years to traverse, with thousands of fans waiting for their chance to never do exactly what you did this past week:
Sell your fandom for a quick buck.
I've heard the argument a dozen times now. "It's my hard-earned money, I have the right to do with it as I please." Technically you are correct, the laws of this country do not forbid you from profiting off your season tickets.
But Broncos Country law does.
What happened to the notion that attending a football game is more than a privilege, it's a responsibility? Broncos fans of old embraced this idea. Read Jim Saccomano's fantastic Denver Broncos: The Complete Illustrated History sometime, and you'll know what I mean. With the franchise on the ropes and rumored to be moving to Atlanta, thousands of Broncomaniacs took it upon themselves to save their football team and keep it in Denver.
The Broncos of old were awful, and frankly didn't deserve the passionate response the city of Denver gave them. These Broncos were 6-1!
I daresay many of those fans would be embarrassed by the absence of Broncomania last night.
It's time for each fan to look inward and take the responsibility of Broncos Country upon himself or herself. If you have a friend that falls into one of these categories, perform a "citizen's arrest," if you will, and tell them what's what. Look inward as well, and see if you're not guilty.
If you don't fall into one of these categories — if you can truly say you couldn't make it to last night's game, or any game this season, even after thinking long and hard (that's what she said) about the Steelers fans who could — fine. You are absolved from criticism.
But everyone else, it's time we took back the Mile High Magic. And rather than pointing blame I invite you to see what action you can take to improve Broncomania.
It's what the fans of old did to save this franchise, and it's what we need now.
May we never give the Hines Wards of the world such easy access to one of their fans in our stadium, ever again.