Posted Mon Oct 26th by Monty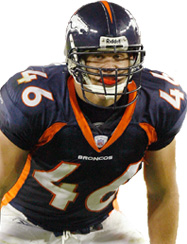 It's been a long time coming for Denver Broncos fullback/inside linebacker/specialist Spencer Larsen, but Mr. Do It All finally returned to the football field Monday for the team's first practice following the bye.
"He's a valuable player," Head Coach Josh McDaniels said Monday. "He contributes on every phase, and that's unique."
Larsen had missed every practice and game since suffering a shoulder injury before the team's season opener in Cincinnati. The second-year player reportedly slipped and fell on the visiting team's locker room tile minutes before the Broncos took the field.
Safety Brian Dawkins and defensive lineman Le Kevin Smith were the only players missing from Monday's two-hour practice.
Count me among those who actually think this is huge. Larsen brings a physicality to all three phases, and is dominant in special teams. Let's hope he's healthy enough to play Sunday, and that his return marks improvement in the short-yardage running game.
Broncos have to get rough with Ravens, McDaniels says [Denver Post]
Freak pre-game accident knocks Larsen out a few weeks [BroncoTalk]