Posted Thu Oct 8th by Monty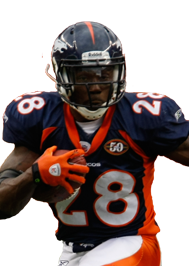 When asked Wednesday if the Broncos would have to change their game plan if Correll Buckhalter had to sit out due to injury, quarterback Kyle Orton exuded confidence.
"I don't think so," Orton said. "We would love to have Correll. He has played great for us. He has been very productive. It is one of our deeper on offense, and we have got a lot of guys ready to go."
When asked if Orton felt rookie running back Knowshon Moreno was ready to carry the load, Orton responded simply, "No question."
Do you agree? If Buckhalter isn't ready to go — he missed practice Wednesday and Thursday, and word is he could miss one to two weeks — will the offense be the same? Will the committee approach of LaMont Jordan and Peyton Hillis be enough to make up for the loss of Buck? We're interested in your thoughts; dish it out in the comments.