Posted Fri Sep 25th by Monty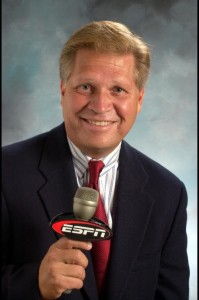 A few weeks ago – the morning of the start of the 2009 season, hours before kickoff in Cincinnati, to be exact – ESPN's Chris Mortensen ran a report indicating that former Denver Broncos Head Coach Mike Shanahan had intended to cut star wide receiver Brandon Marshall this offseason, had he remained coach.  We were much too busy with real football to give the report its due attention, but needless to say, it caused quite a stir.
Mostly because it made no sense.  Shanahan put up with far worse from far worse players to cut ties with Marshall outright.
Enter Jeff Legwold, reasoned voice and the Denver Post's football-minded writer, who tapped into his own sources to basically say what most of us knew all along: Mortensen's report is garbage.
All I can tell you is that Shanahan has told people I know very well the report was not true, that he had no intention of cutting Marshall.
Legwold goes on to discuss what Shanahan's plans with Marshall might have been — a big payday probably wasn't any more likely with Shanny than the current regime — but of particular note is the way Legwold prefaced his counter to Mortensen's bombshell. Sometimes the mainstream writers — particularly those of the Worldwide Leader variety — are too busy making sure their story is first to make sure it's right.
In this day and age of the Internet, Twitter, Facebook, etc., there are reports about a lot of things. And when it comes to the Broncos, Marshall's activities have led the way it seems.

Sometimes the reports are responsible, and sometimes they are not. Sometimes, especially at some of the larger operations, like ESPN for example, they have a pile of people covering the league who are almost competing with one another to be first. In my opinion, it has caused some folks — many of whom I've known for quite some time — to perhaps rush some things on air as they jockey for their own spots within the company.

Some may disagree with that, but it's just an observation.
You think? The only person I see disagreeing with that is Mortensen himself, as he stammers about while colleague Adam Schefter ninjas his way into Patriots HQ.
Speaking of Schefter, before the former NFL Network insider joined ESPN's ranks, he effectively called Mort out on another infamous Shanny story. Mortensen had reported that, weeks after being fired, Shanahan was negotiating and "close to signing" with the Kansas City Chiefs.  Here's Schefter's counter, then on NFL.com:
Despite rampant reports that the Chiefs are negotiating with former Broncos head coach Mike Shanahan to replace Herm Edwards, they are not, sources said Friday.

The Chiefs never have made any contact with Shanahan – never. And there have been no contract negotiations.

So unless people I have known for years are wrong, Shanahan will not be the next coach of the Chiefs. It's not happening. People can keep talking as if it is, but it's not. Shanahan will not be the coach of the Chiefs in 2009.
What I really want to point out is the difference between Mortensen and his colleagues.  Mort ran two ridiculous reports on Shanahan after checking with "NFL source(s)" (in January, just one; in his latest report, more than one) (supposedly).  Meanwhile, Legwold and Schefter tapped into their sources much closer to the source (no pun intended), talking to multiple people who knew Shanahan.
In other words, basic journalism.
Where's the accountability? At what point does ESPN go to Mortensen and say, "Hey, you want to get this one right for a change? Maybe double-check with another source?" And at what point do they fire him outright for repeatedly, repeatedly breaking false news stories?
How do they know he isn't just making this stuff up outright? How?!
I'd rather have no reports than wrong reports. I'm sure a lot of sports fans would agree. We deserve better. Think about it, Bristol.