Posted Tue Sep 15th by Monty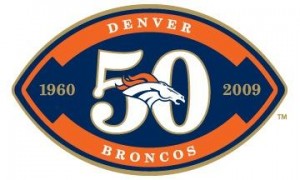 Fans have been able to vote for the greatest players in Denver Broncos history position-by-position since June 6th, and today, the team announced the results. Scroll below to see the full Denver Broncos 50th Anniversary Team.
As you'll see, there's a heavy skew on the 90's teams that won two Super Bowls, especially on offense. And deservedly so; the 1997 and 1998 teams weren't just the greatest squad in Broncos history, they were two of the most talented rosters from top to bottom in NFL history.
OFFENSE
DEFENSE
SPECIAL TEAMS
QB John Elway
RB Terrell Davis
RB Floyd Little
WR Ed McCaffrey
WR Rod Smith
TE Shannon Sharpe
OT Matt Lepsis
OT Gary Zimmerman
G Keith Bishop
G Mark Schlereth
C Tom Nalen
DE Simon Fletcher
DE Rich Jackson
DT Trevor Pryce
DT Rubin Carter
LB Karl Mecklenburg
LB Randy Gradishar
LB Tom Jackson
CB Champ Bailey
CB Louis Wright
S Steve Atwater
S Dennis Smith
K Jason Elam
P Tom Rouen
Ret Rick Upchurch
This list is fairly solid, and closely mirrors my own roster. I would have liked to see Al Wilson at linebacker; he was the heart and soul of the Broncos defense for 8 years, but it's hard to take any of those names off at the same time. Lionel Taylor makes more sense than Eddie Mac at WR to me.
What do you think Broncos fans? How does this team match your roster? Who was left off? Who doesn't deserve to be on it? Dish it out in the comments. Press release (including the 2nd teamers) after the jump.
BRONCOS ANNOUNCE 50th ANNIVERSARY TEAM
ENGLEWOOD, Colo. — The 2009 NFL season marks the 50th anniversary of the Denver Broncos. To commemorate the past while embracing the future, the franchise has allowed its community of fans, an integral part of Broncos Country during the first 50 seasons, the chance to vote for their 50th Anniversary Denver Broncos Team.
From June 6 – Sept. 4, fans had the chance to make their voices heard by casting their votes online at www.DenverBroncos.com. The results are in, and here are the choices:
First-team Offense
QB John Elway
RB Terrell Davis
RB Floyd Little
WR Ed McCaffrey
WR Rod Smith
TE Shannon Sharpe
OT Matt Lepsis
OT Gary Zimmerman
G Keith Bishop
G Mark Schlereth
C Tom Nalen
First-team Defense
DE Simon Fletcher
DE Rich Jackson
DT Trevor Pryce
DT Rubin Carter
LB Karl Mecklenburg
LB Randy Gradishar
LB Tom Jackson
CB Champ Bailey
CB Louis Wright
S Steve Atwater
S Dennis Smith
First-team Specialists
K Jason Elam
P Tom Rouen
Ret Rick Upchurch
The first team will be honored in person during halftime of the team's Legacy Game on Oct. 11 when the New England Patriots visit INVESCO Field at Mile High. In addition, one lucky voter will have the opportunity to join the 50th Anniversary Team during this ceremony. That winner will be announced at a later date.
The voting process was made possible by the Broncos' online marketing partner, Akavit – the principle digital agency behind DenverBroncos.com and BroncosCountry.com. The interactive voting tool featured the Broncos' history and highlights spanning the past 50 seasons through the use of video and additional multimedia. Each player was represented by their respective biography, statistics and photographs.
Along with the first team, the Broncos are also announcing a 50th Anniversary second team.
The second team-offense has Craig Morton lining up at quarterback, with Otis Armstrong and Sammy Winder at running back, Haven Moses and Lionel Taylor at wide receiver, and Riley Odoms at tight end. Rounding out the unit is the offensive line of Ken Lanier and Dave Studdard at offensive tackle, Ben Hamilton and Paul Howard at guard and Billy Bryan at center.
The second-team defense has a line of Rulon Jones and Alfred Williams at defensive end, and Greg Kragen and Paul Smith at defensive tackle. Al Wilson, Bill Romanowski and D.J. Williams are at linebacker. Ray Crockett and Willie Brown are the second-team cornerbacks, while Steve Foley and Goose Gonsoulin round out the defense at safety.
The second-team specialists are Jim Turner at kicker, Mike Horan at punter, and Billy Thompson at returner.